This thread is all about authentic Chicago Style Deep Dish, but cooked on my Komodo Kamado, of course. I did a thread similar to this on Kamado Guru once. Put the entire site to sleep. If you caught that one, feel free to skip this one. Heck, skip it if you're not interested too. I won't be offended. Or you may find you need a nap in the middle. That's fine. We'll still be here when you wake up.
First, let's parse the name. Most deep dish I see posted on the internet is NOT Chicago style, yet most people feel the need to insert that word "Chicago" in front of "Deep Dish", no matter how heretical it may be. Bottom line is there are a lot of deep dish pizzas out there, many quite good, but only some of these qualify as Chicago Style. Nothing wrong with making and enjoying those other pies, just don't offend a great city by calling it Chicago Style when it's not.
So what makes it "Chicago Style"? To me, it comes down to two key things: The crust and the tomatoes.
First, the crust. Many people think Chicago Style pizza crust is similar to a loaf of bread -- very doughy. Others think there is cornmeal in the crust. Don't get me going on that one. Let's just say I agree with this:
http://www.realdeepdish.com/2009/05-...lling-you-out/
. Both of these are WRONG! The classic Chicago Style pizza crust, such as you'll find at Lou Malnati's, Pizzeria Uno, or Gino's East, has a biscuit-like texture. A bit crisp on the outside, giving way to a biscuity crumb on the inside. Again, if you like cornmeal in your dough or making pizza out of a loaf of bread, by all means keep doing it. Just don't call it Chicago Style or you'll be labeled either a heretic or a Cubs fan!
Next, the tomatoes on a Chicago Style pizza have a distinctly bright flavor, and are usually a bit chunky as well. The closest I've come to replicating that flavor is with a particular brand: 6-in-1 All Purpose Ground Tomatoes. They aren't chunky enough, but the flavor is spot on and you can always add some high quality diced or hand crushed tomatoes for chunkiness.
Let's start with the dough. Here's my favorite dough recipe for a 13" Deep Dish pizza. The recipe you'll find at
http://www.realdeepdish.com
is also excellent and I used to make one very similar to that, but I like this better:
350g AP Flour - 95%
20g Semolina - 5%
170g Water - 46%
64g Corn oil (17%)
14g Olive oil (4%)
1/4 tsp Salt - (.35%)
1/2 tsp Sugar - (.5%)
2g instant dry yeast - (.5%)
First, mix all the dry ingredients except for the yeast, then pour in the oil. Remember, since we're not making bread, we're trying to *avoid* gluten formation, so we don't want to proof the yeast and we don't want to over-knead the dough.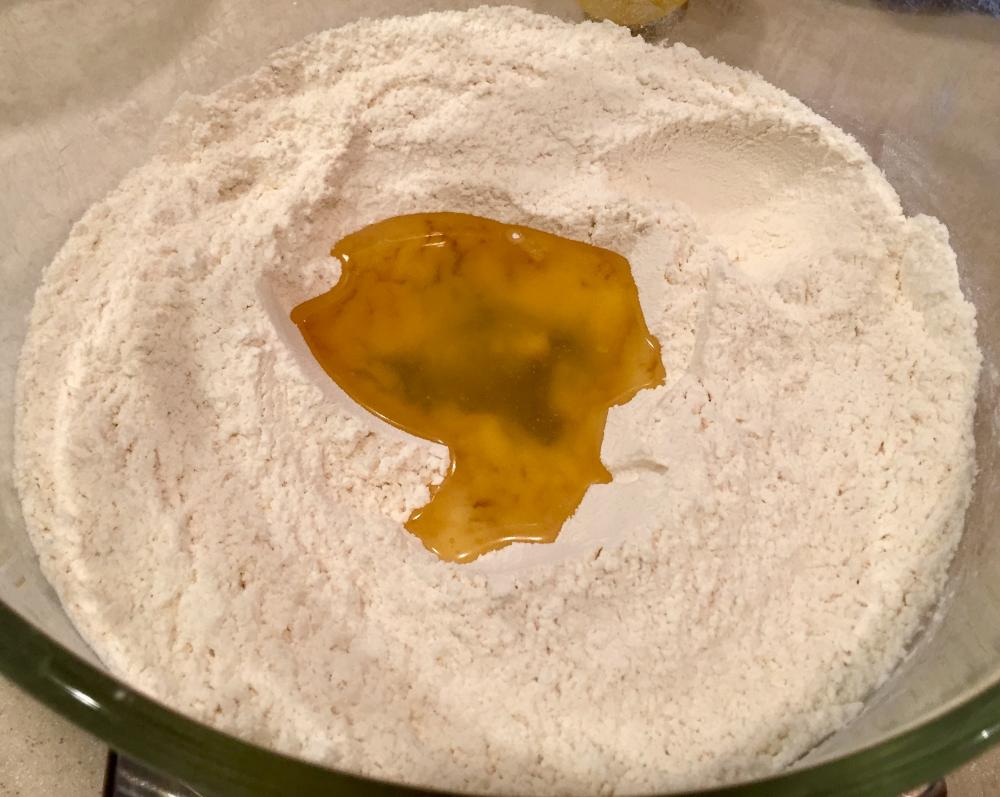 Partially mix in the oil, then add the water and partially mix that too. Then sprinkle the yeast on top.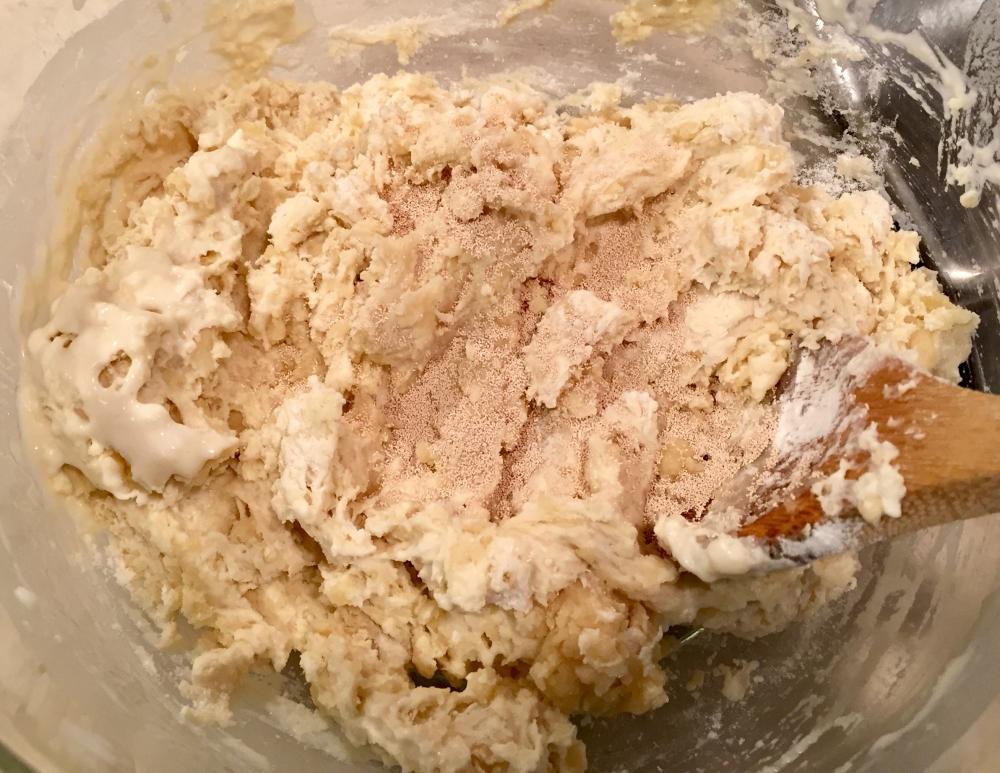 Stir that in until just barely combined, then knead the dough in the bowl with one hand for no more than two minutes. Now cover it with plastic and let it rise in the oven with only the oven light on for heat for up to five hours. It will rise, but not much.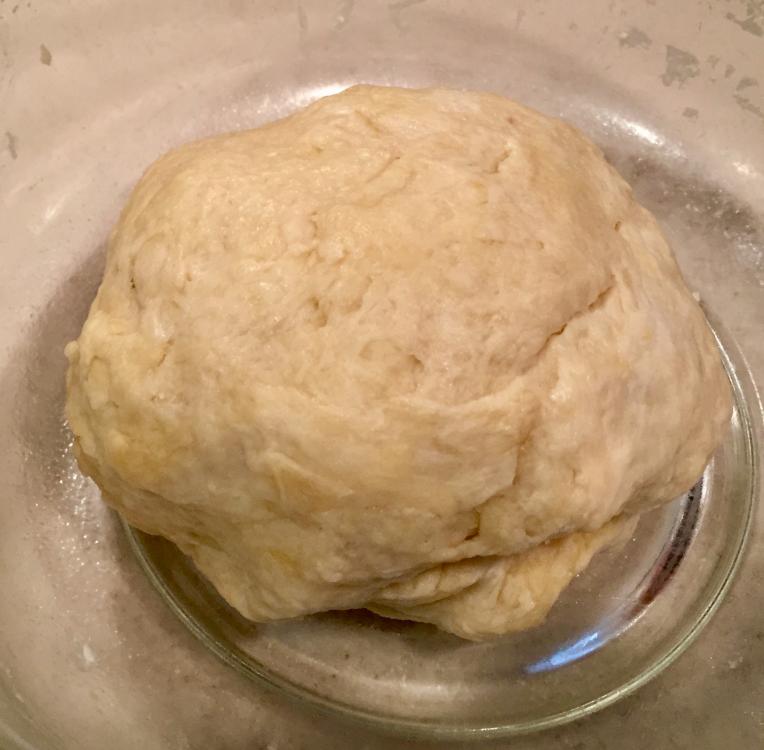 While that's going on, we also want to drain the tomatoes in a strainer over a cereal bowl. Some people like to spoon them right from the can. I prefer to let the water drain out so that the pizza isn't too wet.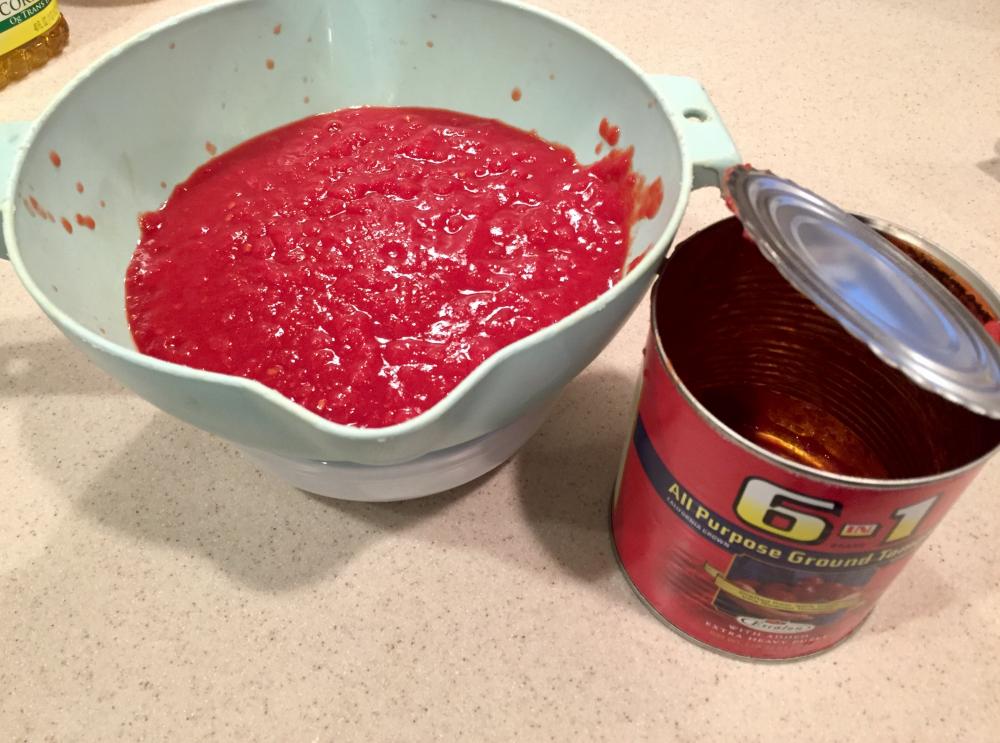 I also like to de-fat my pepperoni so that we don't get a grease slick on top. Put the pepperoni on a plate between paper towel sheets, then nuke for 30 seconds. Amazing how much grease is pulled out.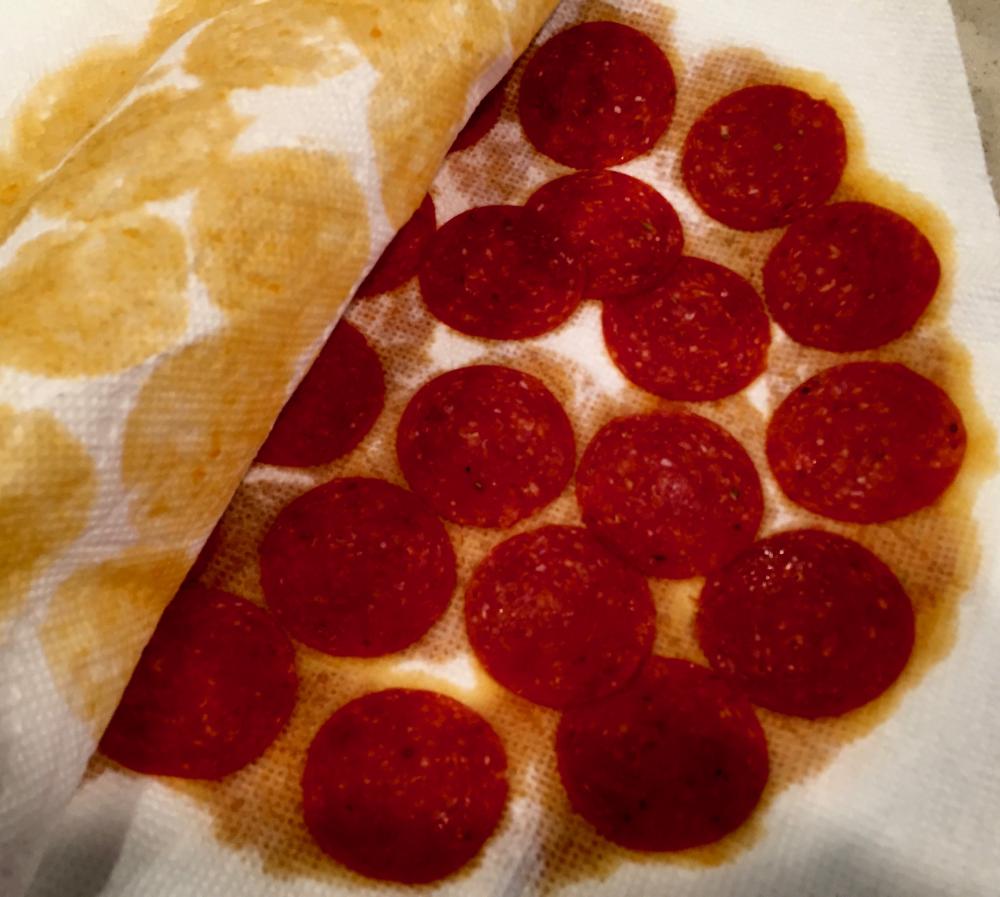 Sliced and sautéed my onion for just a bit. No pics of that. Instead I give you my fancy new teak cutting board. Sweet, no?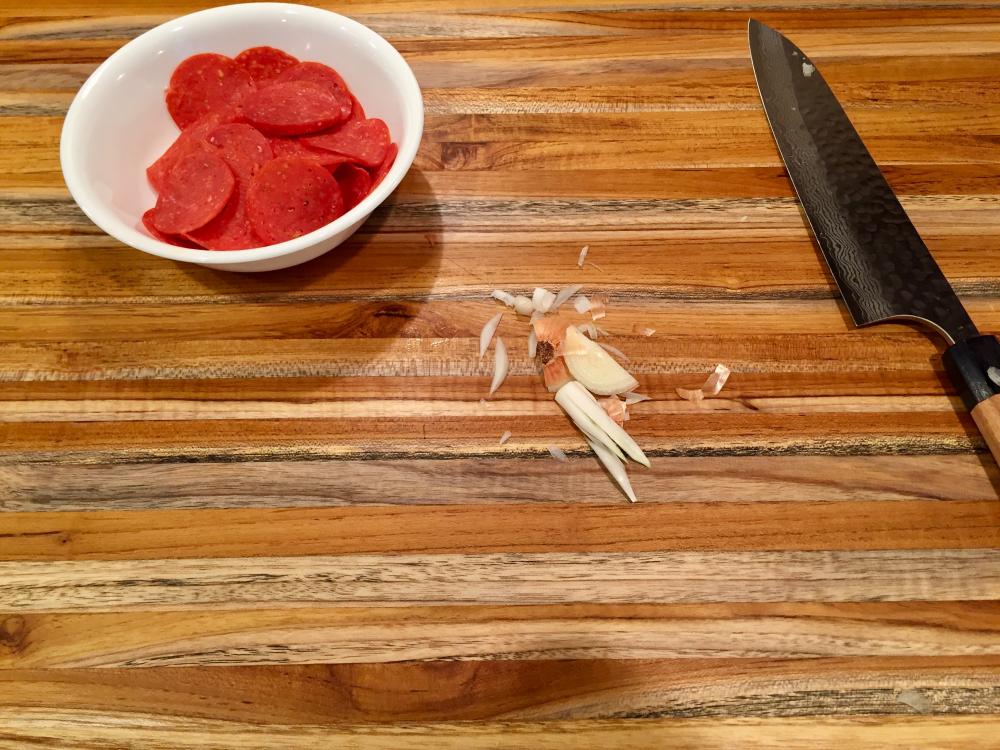 After five hours, the dough has risen, but gluten matrix is weak to non-existent. No way that dough would pass the windowpane test.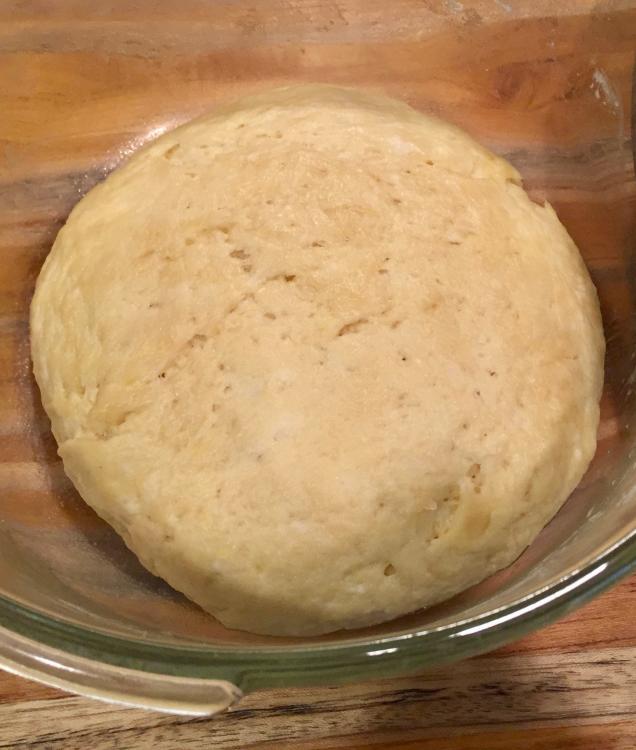 Grease my decades old, highly seasoned steel deep dish pizza pan. I've been doing deep dish pizza much longer than I've been doing barbecue. Bought this one while I was still in college and realized the need to master this before leaving Illinois for good.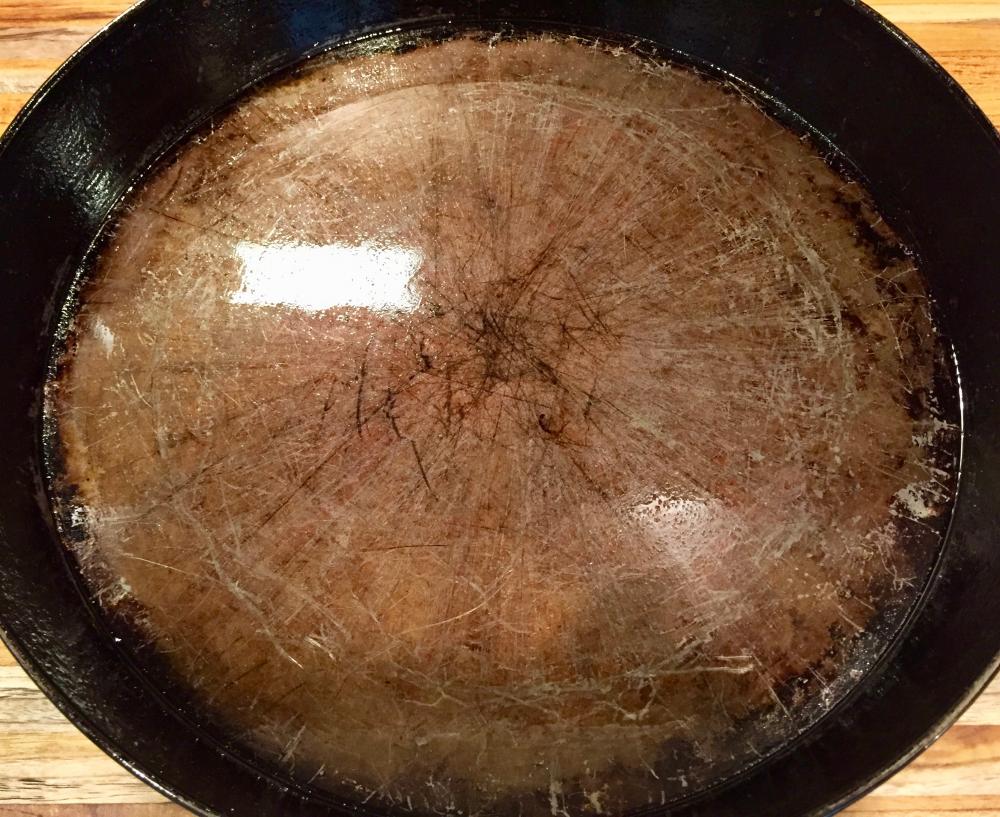 Spread the dough, and pinch it half way up those two inch sides.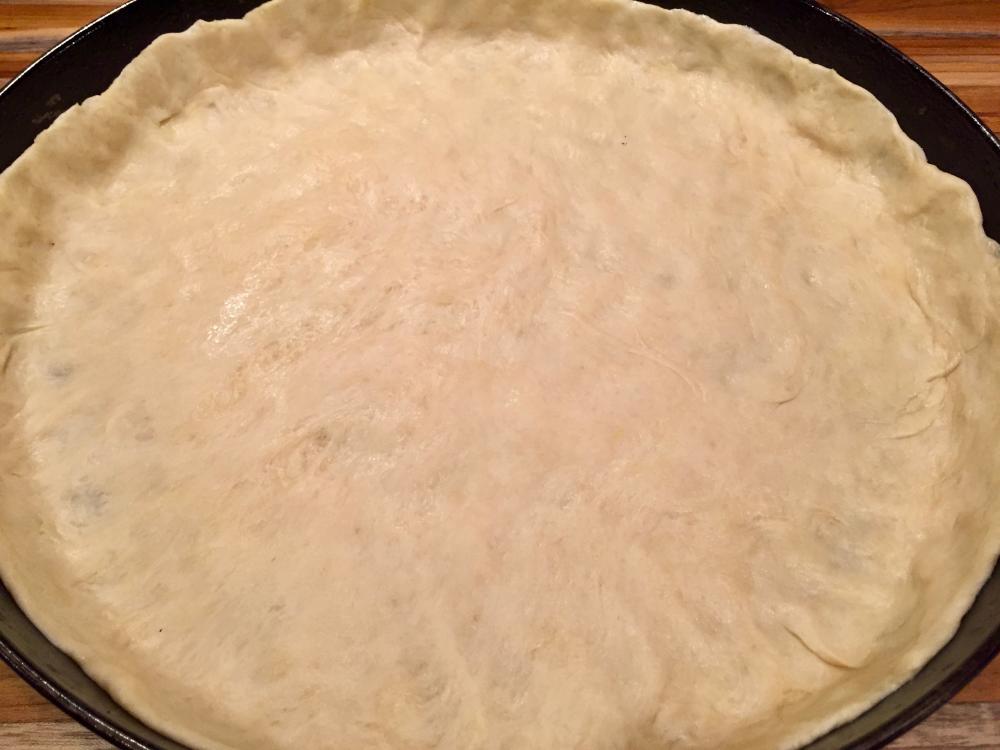 You can use 8 to 16 ounces of mozzarella, depending on how cheesy you want it. This mozzarella is from a cow I own in the Shenandoah Valley, then delivered the whole, unpasteurized milk to an Italian Grandmother nearby to make the cheese for me.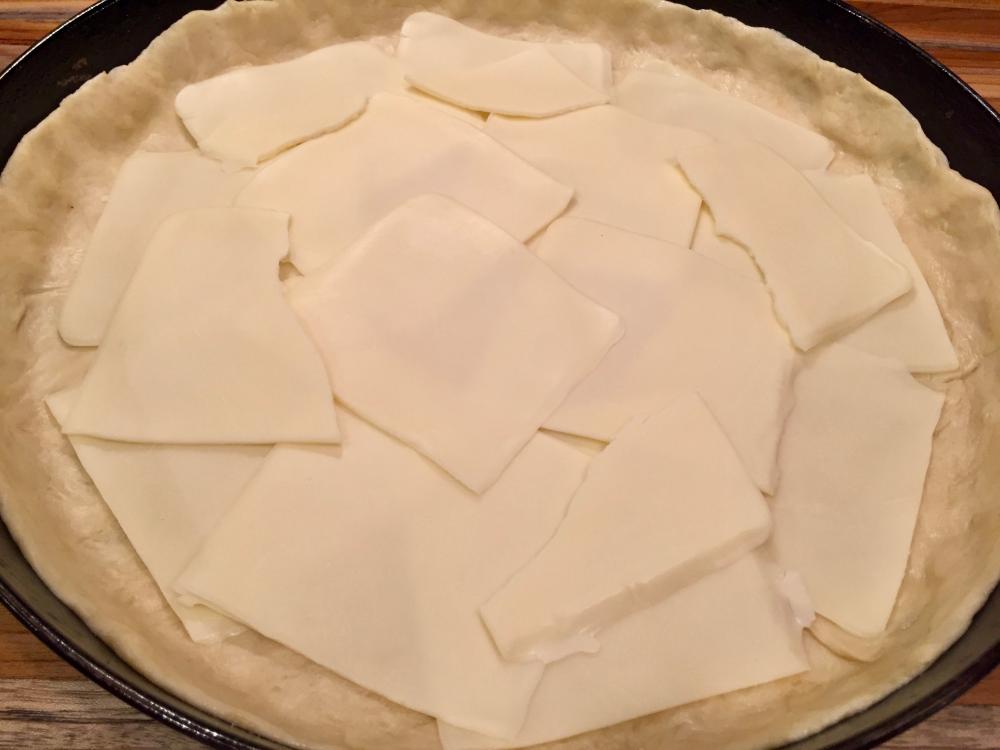 I lied. Safeway had this in stock. I'm using 12 ounces of the stuff.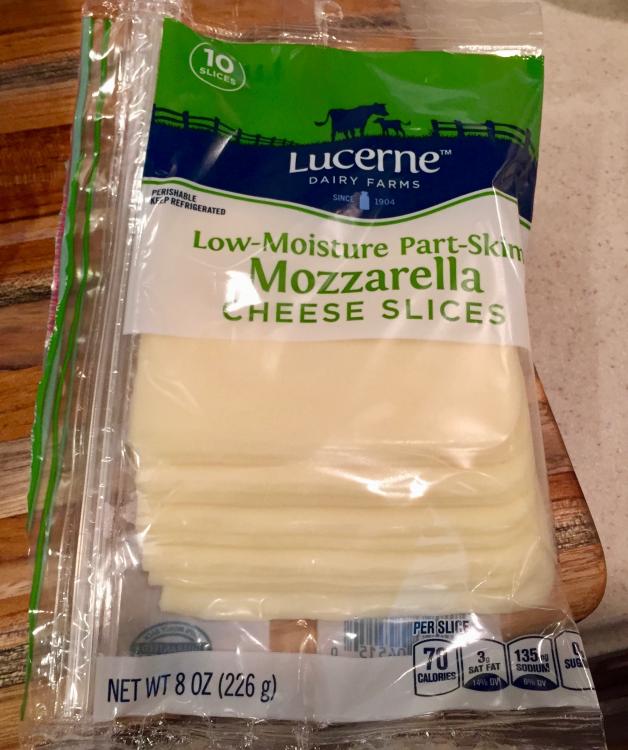 Then top the cheese with the sautéed onions.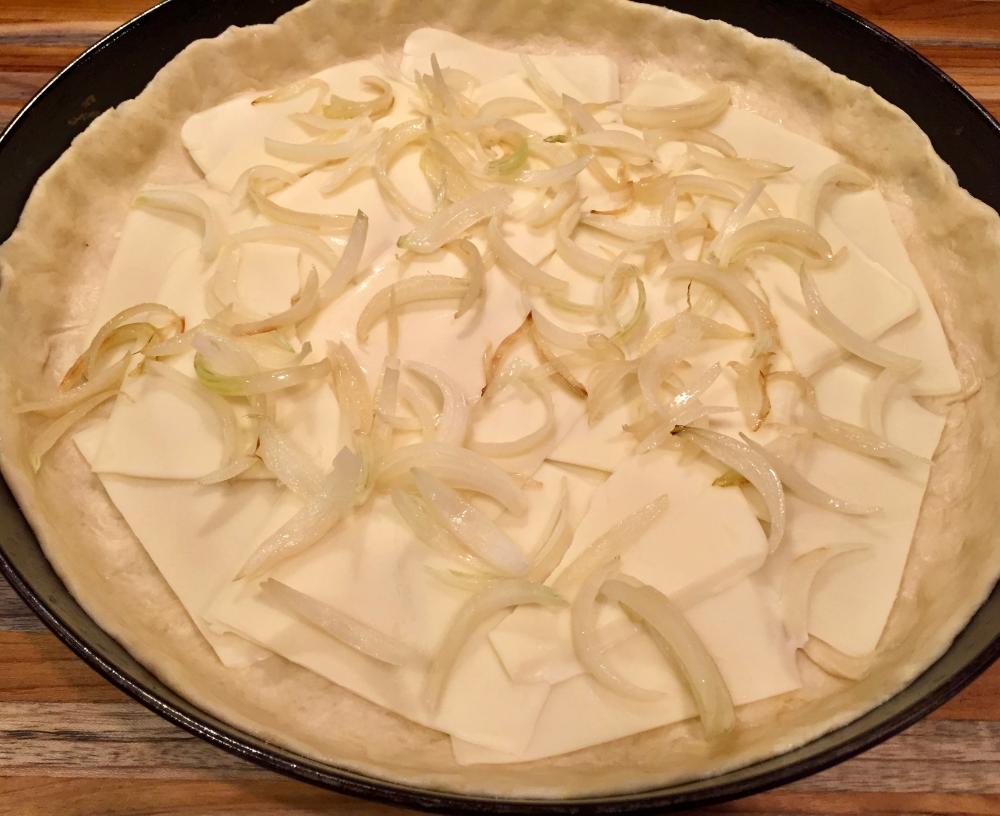 Now ready for the tomatoes. Here's what they look like after draining all afternoon.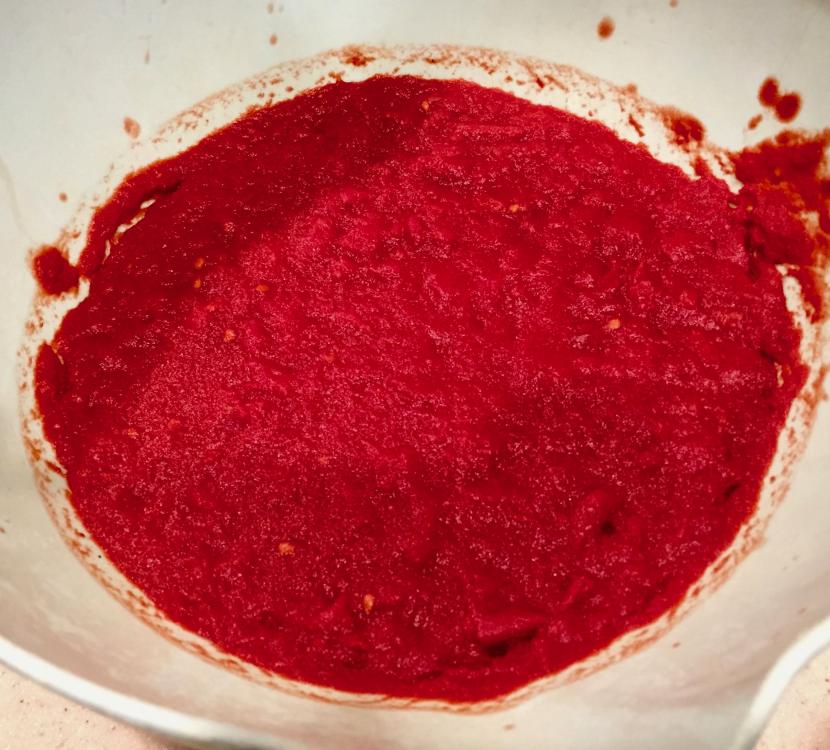 Look at all that water.
Most, but not all of the drained tomatoes go on the pie.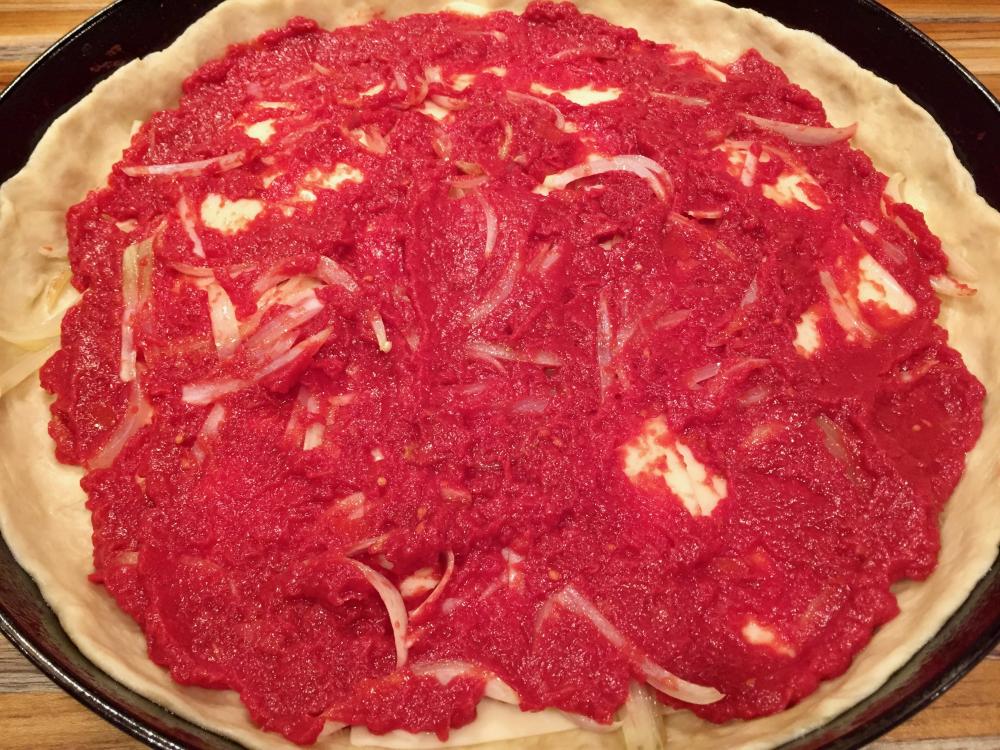 Now sprinkle with about 1 teaspoon each of dried basil and oregano. I prefer fresh basil, but none available today.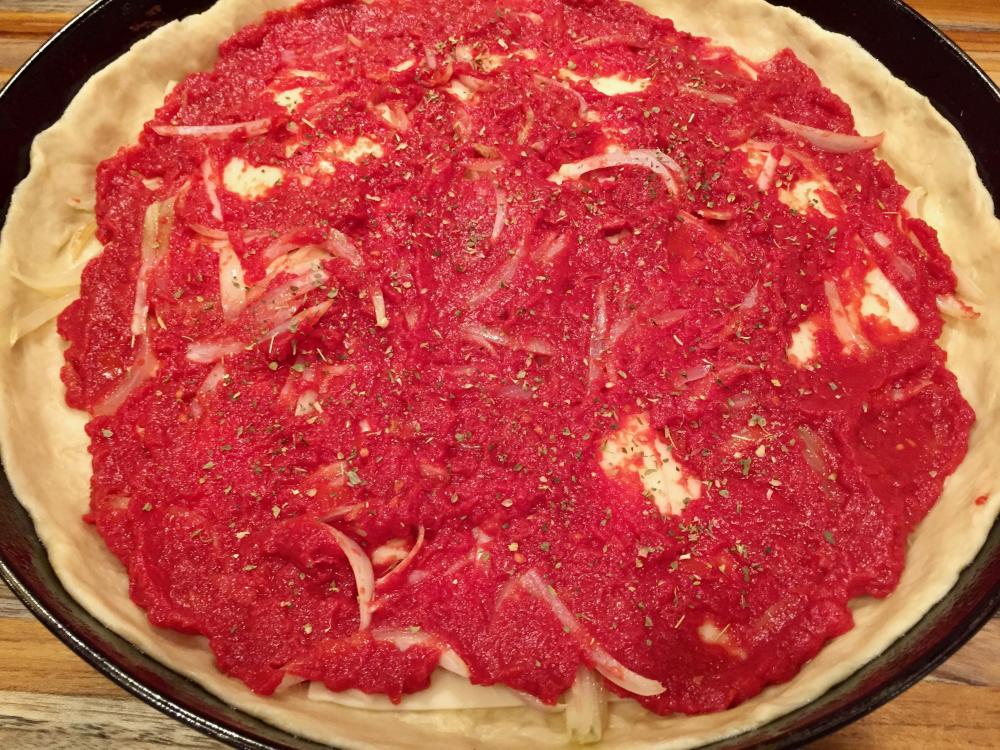 Grate some parmesan directly on top.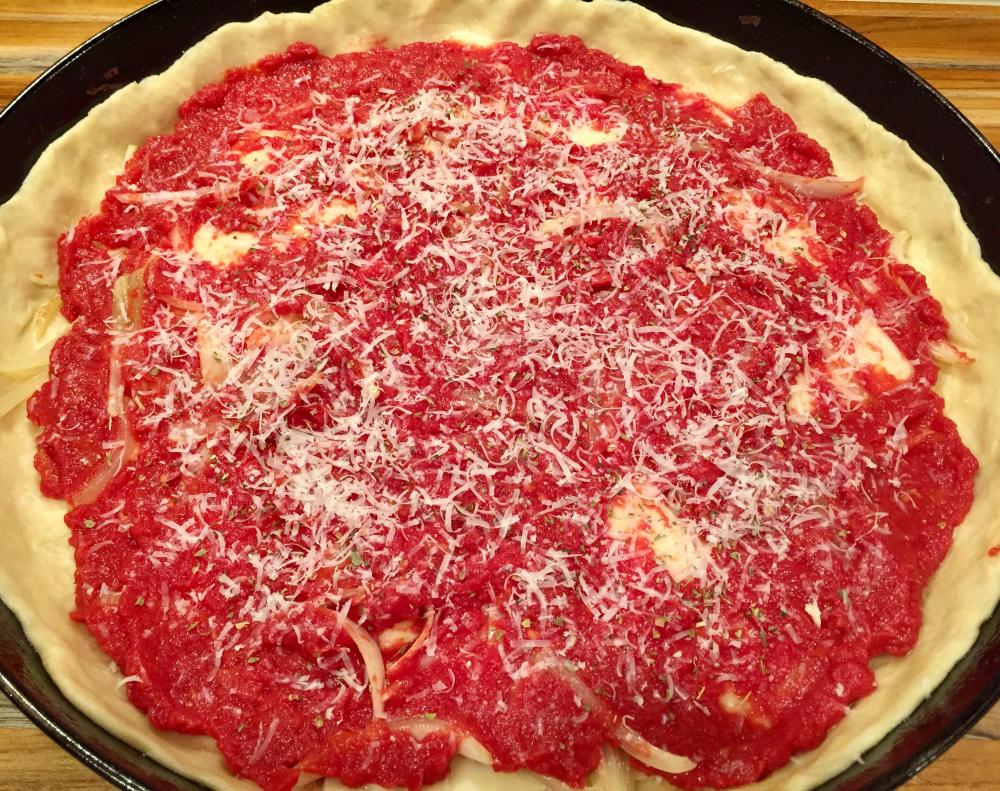 Then all of that de-fatted pepperoni.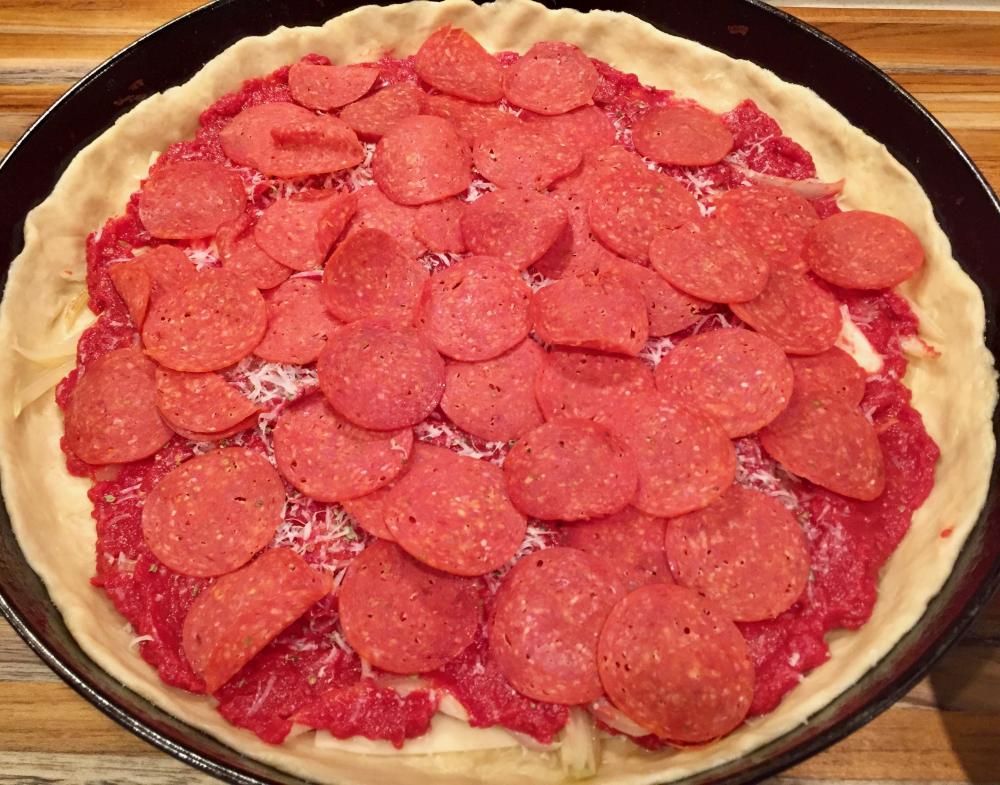 Onto the KK at 450.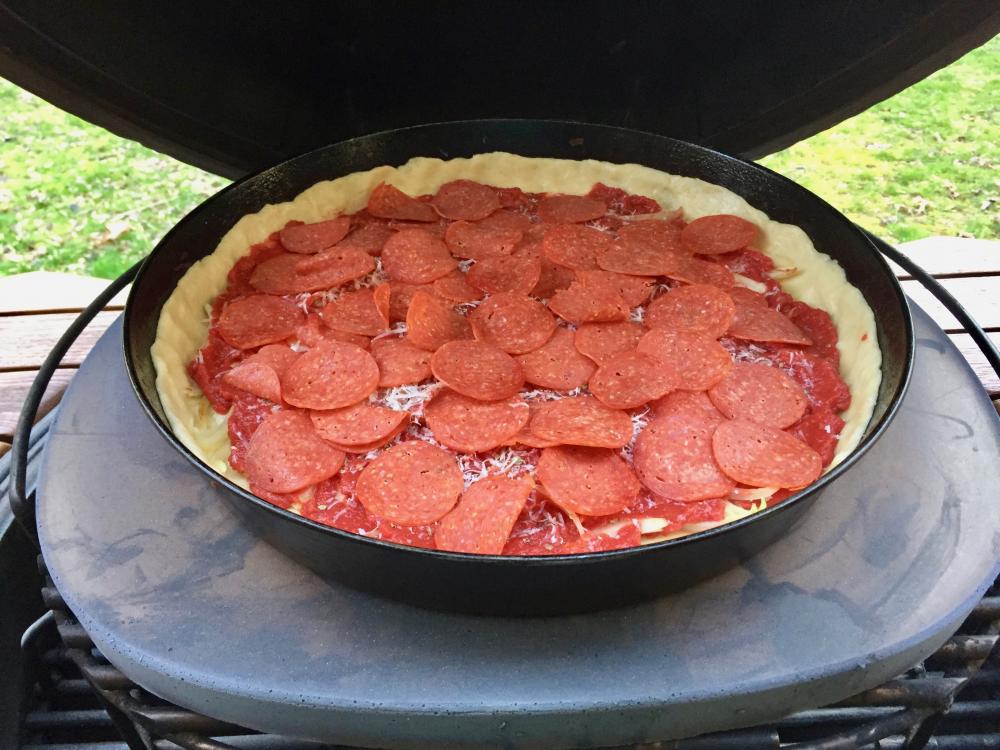 Turn it after about 15 minutes. Don't know if I really needed to do that in the KK, but always do it in the oven and it's a habit,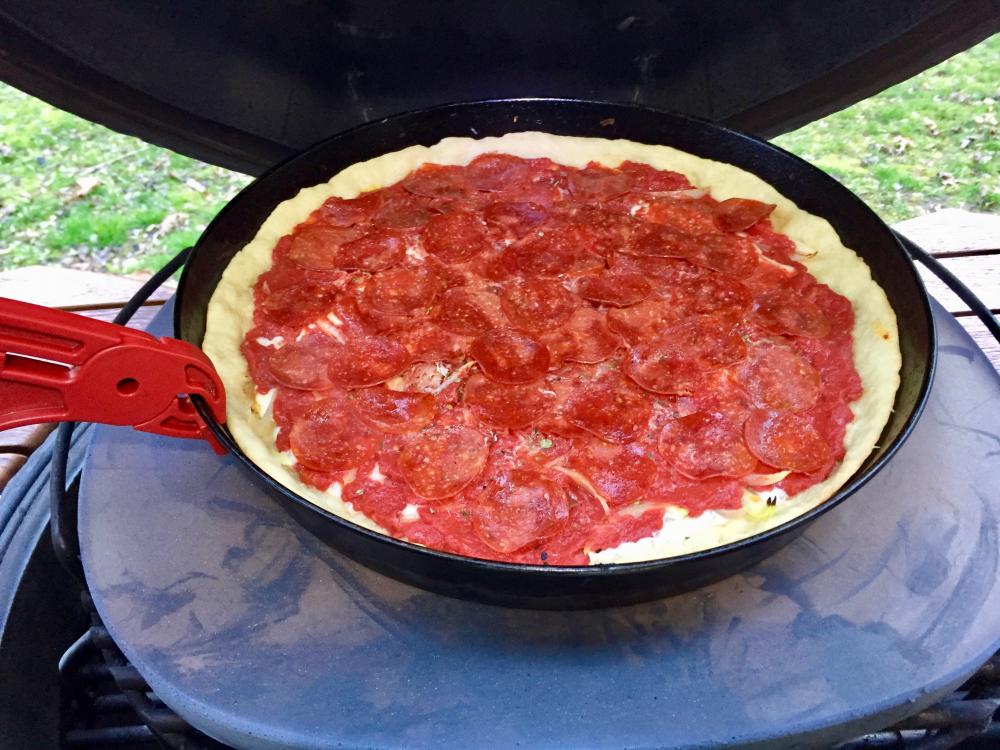 And after about 15 minutes more, we're ready.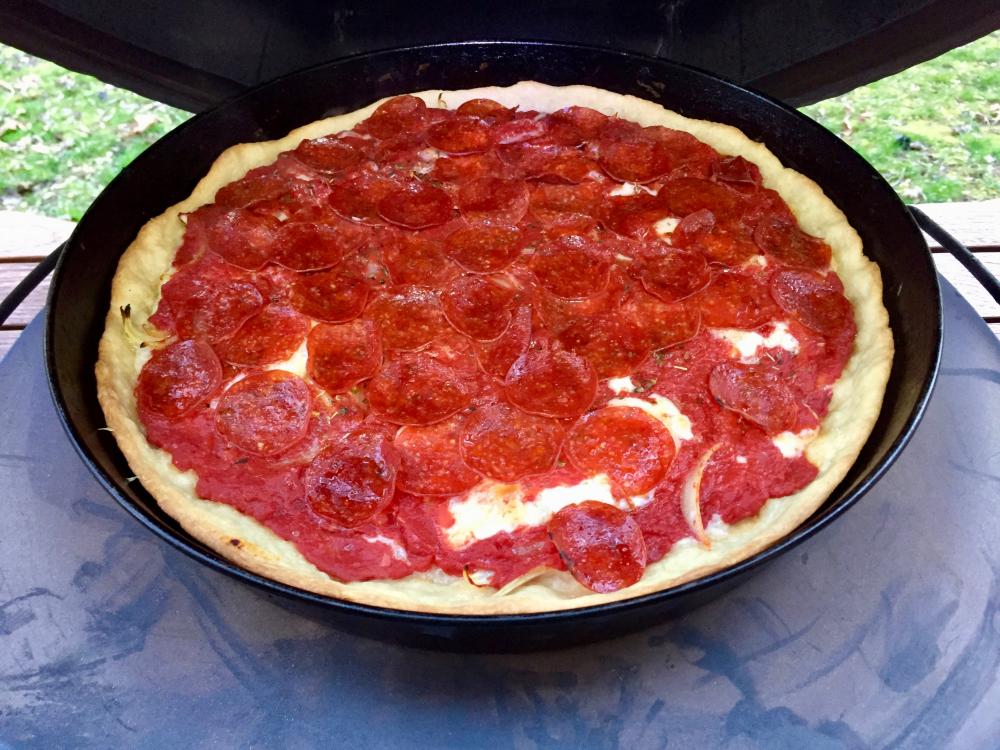 Let it rest for five minutes.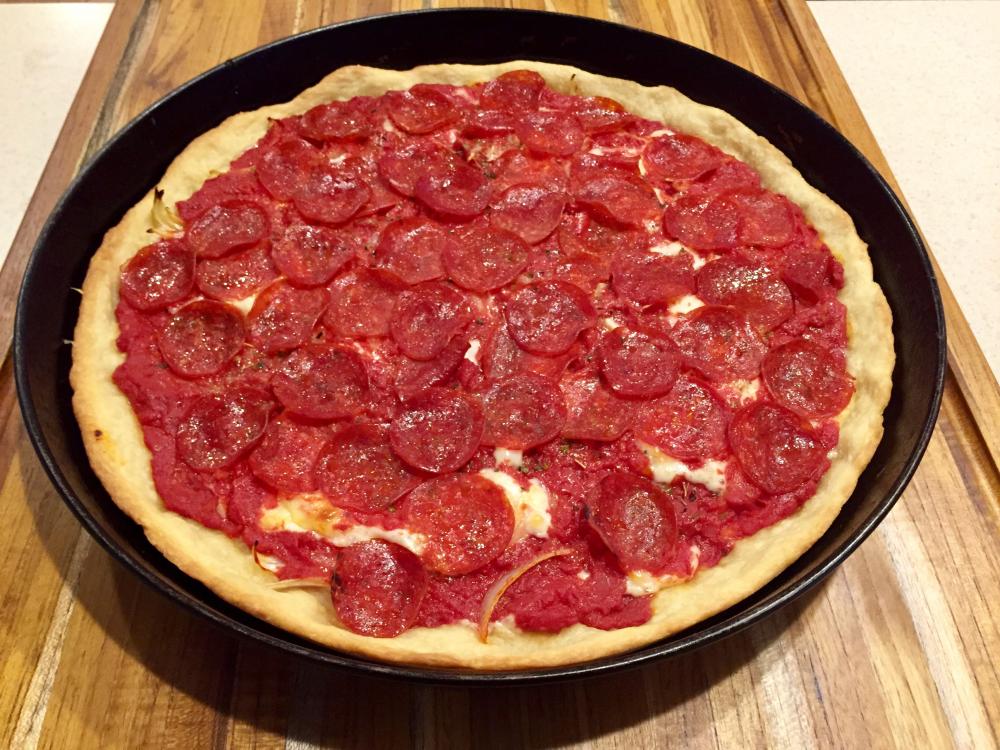 Remove it from the pan.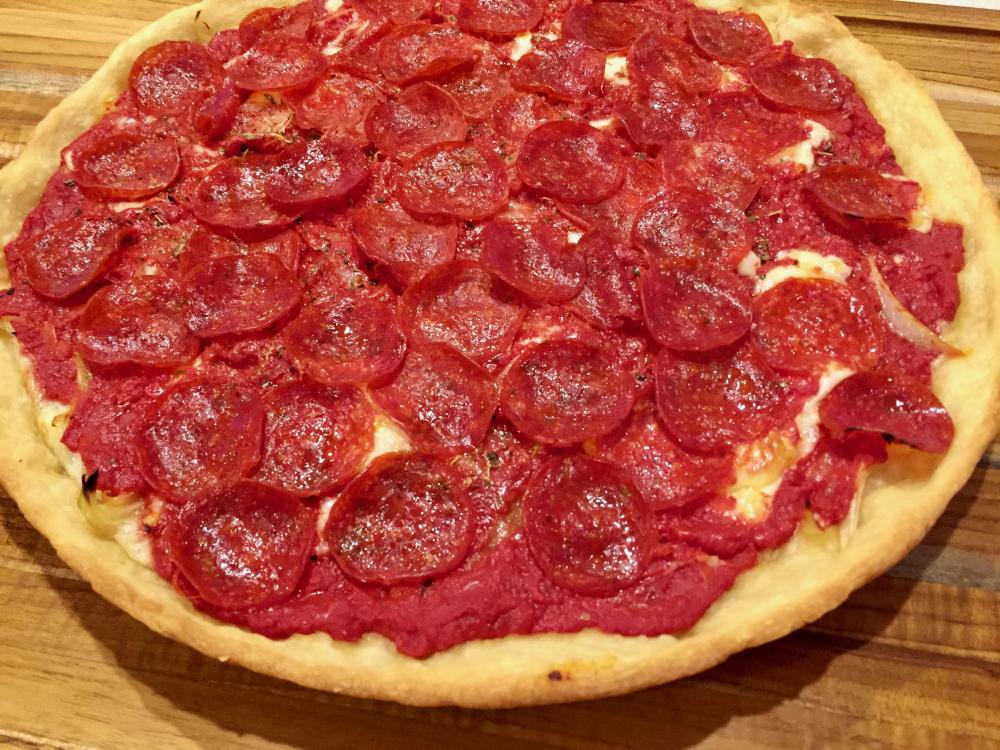 Plated.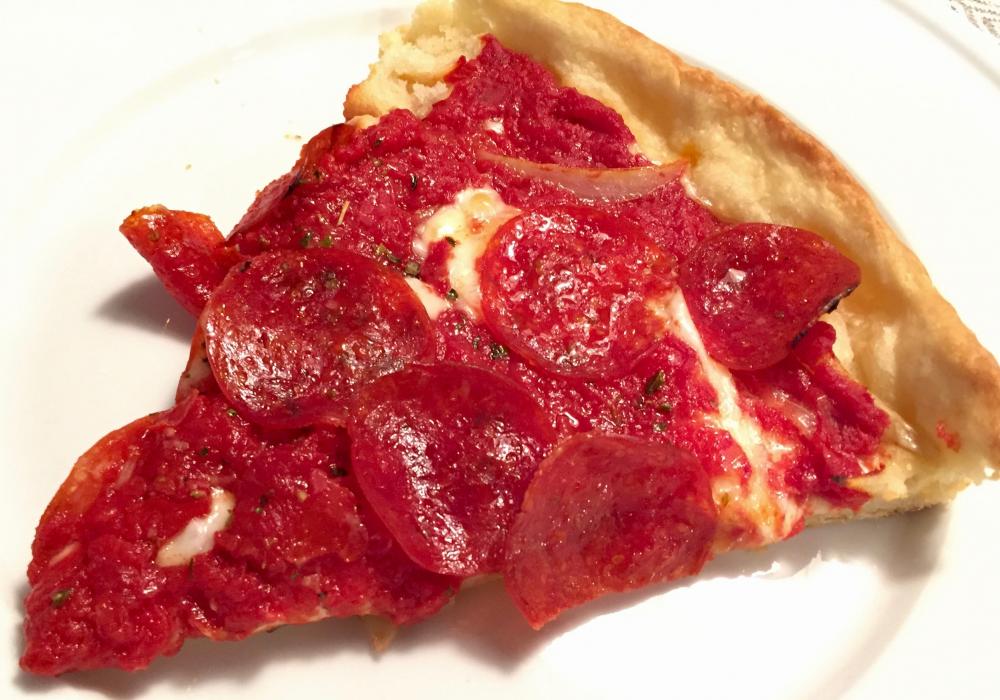 Perfect. Here's the bottom.