So maybe it's blasphemy... I don't know.
I've had this Prime packer in my fridge for a while. Packing date from Costco was 06/14/2018, so it's been aging for somewhere between 7 and 9 weeks, as I've read the "packing" date is when it arrives at the store and is labeled and could be as much as 2 weeks off. The Wife has put me off the last several weekends on cooking this, but I finally decided now is the time. In-laws (MIL and 2 SisIL) flew in from out of the country this week, so they'll get to check it out, but my father-in-law won't be here till middle of next week, so he's going to have to settle for the other things I do later. lol
So the packer was 14.9 lbs. Made it a nice learning activity with my son bringing him in and slowly and carefully trimming the brisket down, removing silverskin, etc. He seemed to enjoy it, while I was holding my breath as he wielded my trusty Rapala filet knife. He did well, though, no cuts. Spent a lot of time explaining the anatomy of the brisket, the different types of fat, why we trim the way we do, why we leave a fat cap on, how salt and spices penetrate the meat (or don't), etc.
Got 'er salted up and rubbed with Oakridge Black Ops brisket rub - I wanted to try something not so heavy on black pepper, which always bothers me. S&P or SPG is ok, but even on my pastrami, the black pepper always overpowers too much, for my taste. Here she is, all rubbed up and nowhere to go - well, ok, not true, she had a destination:
Looking good.
So, I threw her in the Yoder YS480 at the lowest heat setting (150°F) for about 3 hours. I did fat cap down, and I also set 2 extra smoke tubes burning as well. I used Pit Boss Pecan, Hickory and Mesquite pellets. Pulled her out and bagged and sealed, and bagged and sealed again. Had my son continue to help me with this, so he gets used to using the sealer. We double-sealed both ends of the inner bag and triple sealed both ends of the outer bag. I was surprised I didn't have to trim any of the sides off to get it to fit in the vacuum bags, but with two people, it went in just fine.
Now it's in the water bath. I didn't have a big enough container for this, so I ran to WalMart and ended up with a 70L one, which really is TOO big, but all the other choices were really too shallow. Oh well. You can definitely smell the smoke this baby picked up in the Yoder, it leaks out of the double bags and permeates the whole house. I am going to be salivating all weekend!
So the plan is 144°F for 40-44 hours. Then I'll take it out and reevaluate. I'm not sure if I want to put some more rub on it at that point (sous vide always seems to require more seasoning, in my experience, especially salt) and throw it back in the Yoder for 2-4 hours to try to firm up the bark, or just go after it with the trusty old searing tool: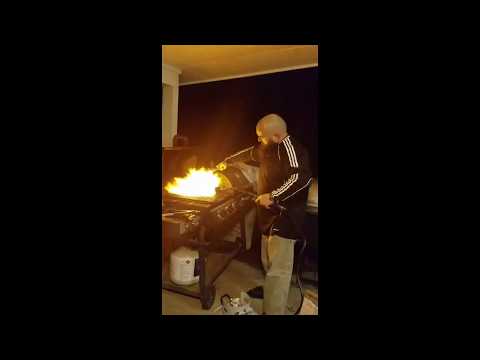 What do you guys think? Back on the smoker or char the outside? Also, do you think it needs a "rest" afterwards? I am thinking not, being that it is sous vide...
So this will all happen Sunday afternoon, after church. Got some friends and family coming over, should be a good time.
Look for more pics and probably some slicing pr0n!