Hey all, I was gonna try to do the recipe thing but I'm a visual guy and figured I'd just take a bunch of pictures from last night's cook. We all like pretty pictures, right? I'll try to sprinkle some commentary throughout. Also want to say that I'm not exactly up on all the science of BBQ so forgive my ignorance. Feel free to send advice my way.
I grew up on short ribs with Korean dishes such as kalbi (thin sliced and grilled), kalbi jjim (braised in sweet sauce), and kalbi tang (beefy soup). So it only seems natural that I've fallen in love with Texas-style barbecue short ribs. My first taste was when Adam Perry Lang brought his trailer over to the Jimmy Kimmel backlot in Hollywood a couple years ago. The meat was amazingly beefy, smoky, juicy, and primal. It made me very happy and I've been on a mission to recreate it ever since.
First off, the short ribs I get are NAMP 123 and usually 3-bone off the short plate (note this is different from chuck short ribs). I usually get Choice from my local butcher and prep them straight from the cryovac without trimming. Here's a YouTube video that does a pretty good job of explaining this cut: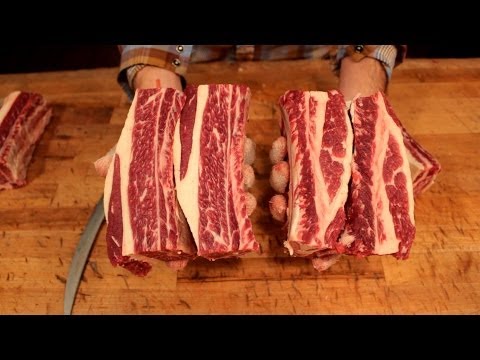 I'll prepare the moisturizer, rub, and foil mix the night before. Moisturizer: 1/4c water, 1/4c prepared yellow mustard, 1tbsp Worcestershire sauce, 1tbsp apple cider vinegar. Rub: 1/4c garlic salt, 3 tbsp coarse ground fresh pepper, 2 tbsp chili powder, 1 tbsp lemon pepper, 1 tbsp kosher salt, 1 tsp cayenne pepper. Foil mix: 1/2c firmly packed light brown sugar, 1/2c honey, 3 tbsp Better Than Bouillon, 2 tbsp water, 1 tbsp unsalted butter.
I get my power trip on and give that lighter cube a blast to show him who's boss.
I wrap my water pan like Harry Soo suggests. Sometimes I'll add water but mostly I've been leaving it dry.
I'm very pleased with Harry's donut method. I use about 3/4 of a bag and a few chunks of wood.
I leave out the bottom rack if I don't have to use it. It's a real hassle trying to get in there with meat on the top rack and cables running around.
I've got the Auber temperature controller to regulate the smoker temp and the iGrill mini for the internal meat temp. I get the temp up to 275º.
Back in the kitchen, I slather on the mustard moisturizer, rub in the seasoning, and spray it down with canola oil.
This particular cut was extra long so I laid one on top of the other.
I insert the probe between and above the ribs on the chunkier side of the meat.
This initial cook lasted 4 hours when the internal temp reached 190º.