Let me start by apologizing for not getting more pictures of the whole process. My cooking process is somewhat unconventional.
What you will need
~ ingredients are estimates
Thick English cut beef short ribs (or oxtail)
Two medium sized onions, diced
A good size carrot, diced
A stock of celery, diced
A bottle of Xingu (Brazilian beer) or Guiness will work
Beef stock
Thyme and Bay leaf
Tomato paste
Whole garlic cloves, peeled and smashed. As much as you like
Process
Heat oven to 325
Season beef with salt. I skip the black pepper when I plan to sear meat for braising because black pepper burns and leaves a nasty taste.
Heat a heat skillet or dutch oven, place a layer of oil, here I'm using homemade ghee. Brown the beef well and I mean really brown it.
Put that mess aside. By now you should have beautiful bits of goodness, fond, in the skillet. Dump the onion, celery and carrots in the skillet, season with salt and pepper. Once the aromatics start to brown add the tomato paste and cook that mess well. You want it to start sticking to the pan. Don't forget the garlic cloves
Now add the beef back to the pan, get it mixed with the mess. Add the beer to the pan and add beef stock so that the liquid comes halfway up the meat. Add thyme and bay leaf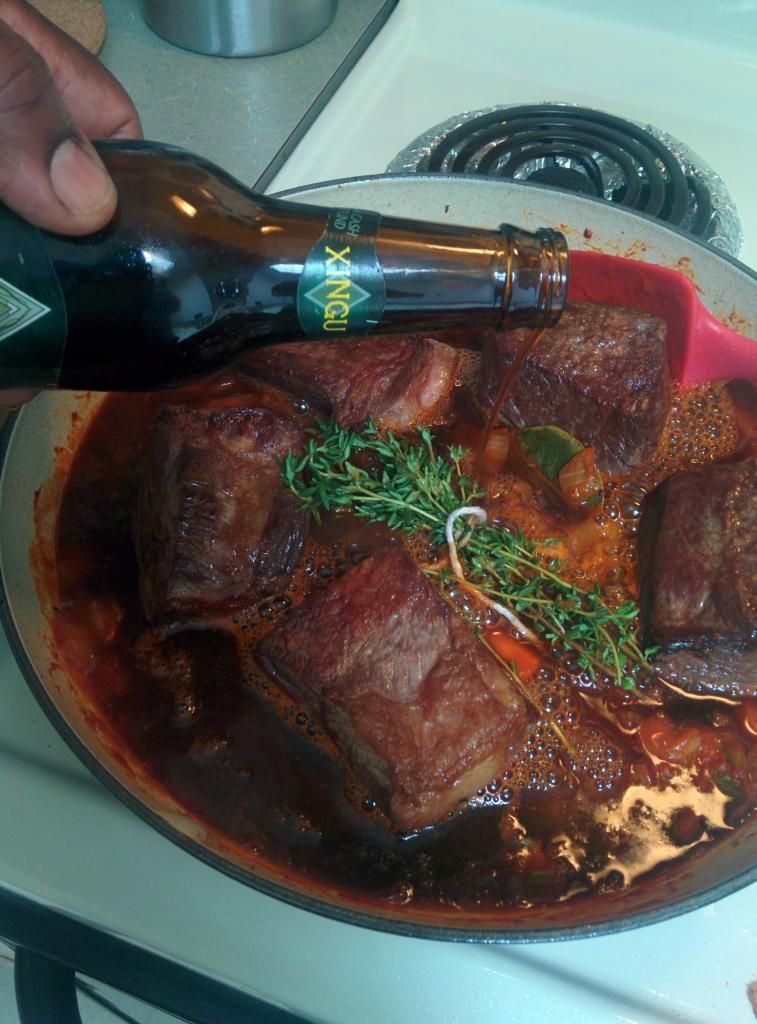 Bring that mess to a boil and place it in the oven. Do not cover the pan. I find that if you braise without the lid you actually get the meat extra maillard reation.
Braise that until fork tender. This greatly depends on meat quality. May take anywhere from 2 to 4 hours. You can flip the meat if you feel the need. I do not think flipping braised meat really matters because the braising liquid DOES NOT go into the meat.
Once that's done, take the meat out and strain your sauce. I strain because all those aromatics are pretty much useless after they have released all the flavors into the sauce.
Here you can put the meat back in the sauce and serve or refrigerate for later use. Actually tastes better the next day.
Notice that I did not use any spices. I let the beef be beef, so get the best quality you can get.
Served over mushroom and kale risotto. Serve that to the wife and she'll be open.........to suggestions!!