How about replacing the usual Friday taco with this tacosoup topped with tortilla chips, sour cream and cheese?
One of the best things about this soup, as well as it tastes great, is that it is very quick to make. Perfect dinner when you are craving for something good while not having all the time in the world to cook.
​​​​​​​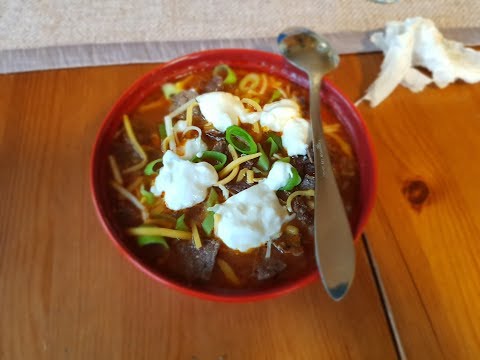 Ingredients;
5 dl/ 2cup's of vegetable stock
1 red and 1 green bell pepper
2 jalapenos
1 yellow onion
3 garlic cloves
1 small can of black beans
1 (sous vide) corn on the cob
2 cans of crushed tomatoes
1 tbs cumin
1 ts chili powder
2 ts oregano
2 ts paprika powder
A pinch or two sugar
Salt to taste
Pepper to taste
2 spring onions sliced (topping)
Sourcream (topping)
Tortilla chips (topping)
Grated cheese (topping)
How to make tacosoup with tortilla chips, sour cream and cheese.
Boil 5 dl/2 cup's of water and stir in the vegetable broth cube in the water. Set aside. Rinse black beans in cold water and drain well.
Finely chop onions. Jalapenos, bellpeppers and garlic. Heat vegetable oil in a casserole and fry the onion until soft and glossy.
Add the garlic, cumin, oregano, paprika and chili powder and cook for about 1 minute.
Add canned tomatoes, broth, sugar, black beans. Bring to a boil and cook for about 15 minutes. Season with salt and pepper.
While the soup is cooking, prepare the topping; cut spring onions into thin slices, cut corn kernels off the cob and grate cheese.
Serve the soup with the desired amount of crushed tortilla chips, sour cream, grated cheese, spring onions and corn.
ENJOY!