Let me share my favorite coconut shrimp recipe.
You will need some bourbon, preferably drank from a mason jar
Get 20 large shrimps, butterfly them and wet brine (basic brine) for 30 minutes. This gives them that POP texture.
While shrimps are brining go ahead and get 1 cup AP flour, to that add about a teaspoon of paprika (this brings out the shrimp in shrimps), some chipottle pepper and white pepper to taste. put that mess in a large bowl with a cover or a gallon size ziploc bag.
In another bowl, beat 2 eggs with about a tablespoon of coconut cream (better) or water. set that aside.
In a third bowl mix about a cup of panko bread crumbs and about a cup and a half of shredded coconut. Sweet or unsweetened works. I mix the two.
Here's how your work station will be set up. You'll start with flour mixture, then agg bowl, Panko bowl and lastly a cooling rack set on a baking sheet.
Dry your shrimp as much as possible and damp them in the flour mixture and shake em to coat.
Shake off excess flour and dip in egg mixture then press em in the panko/ coconut mixture. You want to press so that the mess adheres to the shrimp. Move them to the cooling rack. From here you can leave them in the refrigerator until you're ready to cook.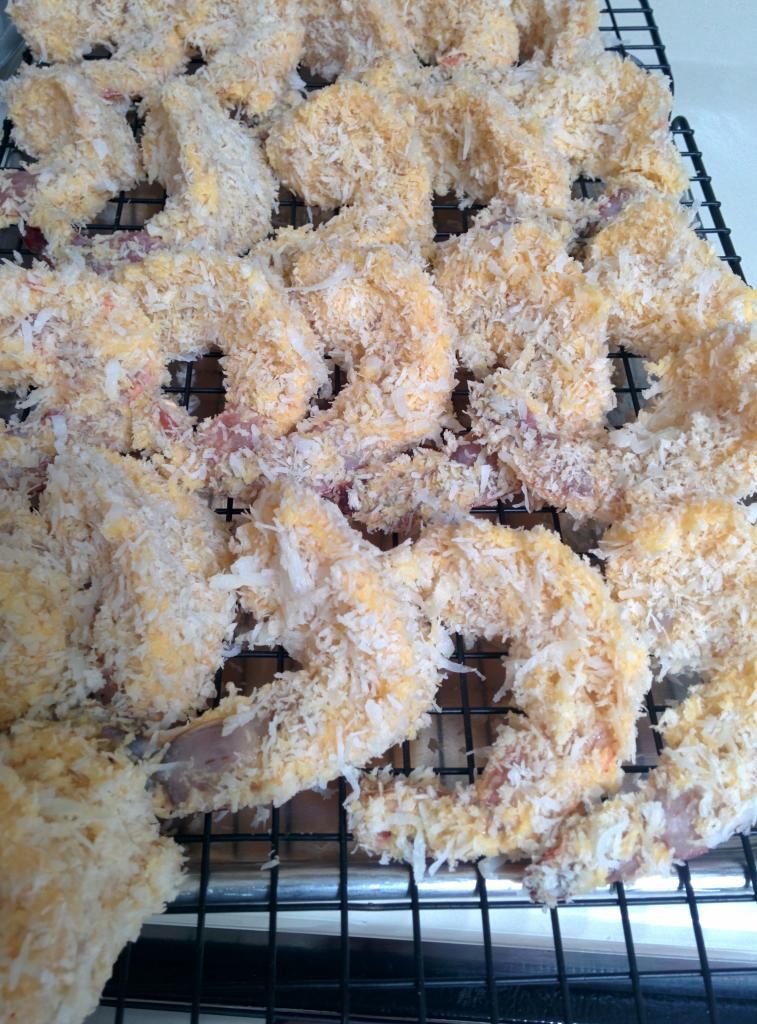 Heat about an inch and a half of peanut oil in a cast iron skillet or dutch oven to 350 degrees and fry shrimp until golden brown. As soon as you take them out give them a squeeze of lemon juice and serve.
I serve them with a simple green salad and dipping sauce of orange marmalade, Thai sweet chili and lemon juice.
My apologies, I'm not good at writing or following recipes. But if you see something wacky please point it out.