Tastes 100 times better than that MANHELL's (get it?). Most of these ingredients are estimates. I can't be bothered with measurements unless I'm baking.
1 egg yolk
1 tablespoon water. I have tried using whole egg but I prefer replacing the white with water
I tablespoon vinegar. I grab any vinegar closer to me or lemon juice.
a squirt of dijon mustard, helps with emulsification.
3/4 to 1 cup oil. Peanut and macadamia nut oil are my favorites. Stay away from olive oil, especially extra virgin, gets bitter after bruising.
a dash of vietnamese fish sauce (UMAMI on steroids)
Pinch of salt
Sometimes I add a pinch of chipotle powder, as the one below.
Add all ingredients
EXCEPT OIL
to your food processor and run it. Then slowly drip the oil in while its still running. After about a quarter cup you can add the oil in a steady stream until you get a thick mayo consistency.
OR, I borrowed this from Kenji on serious eats. This is way easier than pulling out the food processor.
Use a stick blender, add all ingredients ( except the oil) to a narrow cup or bowl that will barely fit the base of the stick blender. Add the oil last so that it will get suspended over the rest of the ingredients.
Now stick the blender all the way to the bottom. What will happen here is that the running blender will form a vortex like action that will pull the oil down and mix it with the other mess. This mimics the slow steady dripping.
Blast it on max speed and slowly pull the stick blender to get everything "mayonnaised". Once you're satisfied with the consistency, transfer that mess into a jar, taste for seasoning and enjoy.
Fantastic mayo.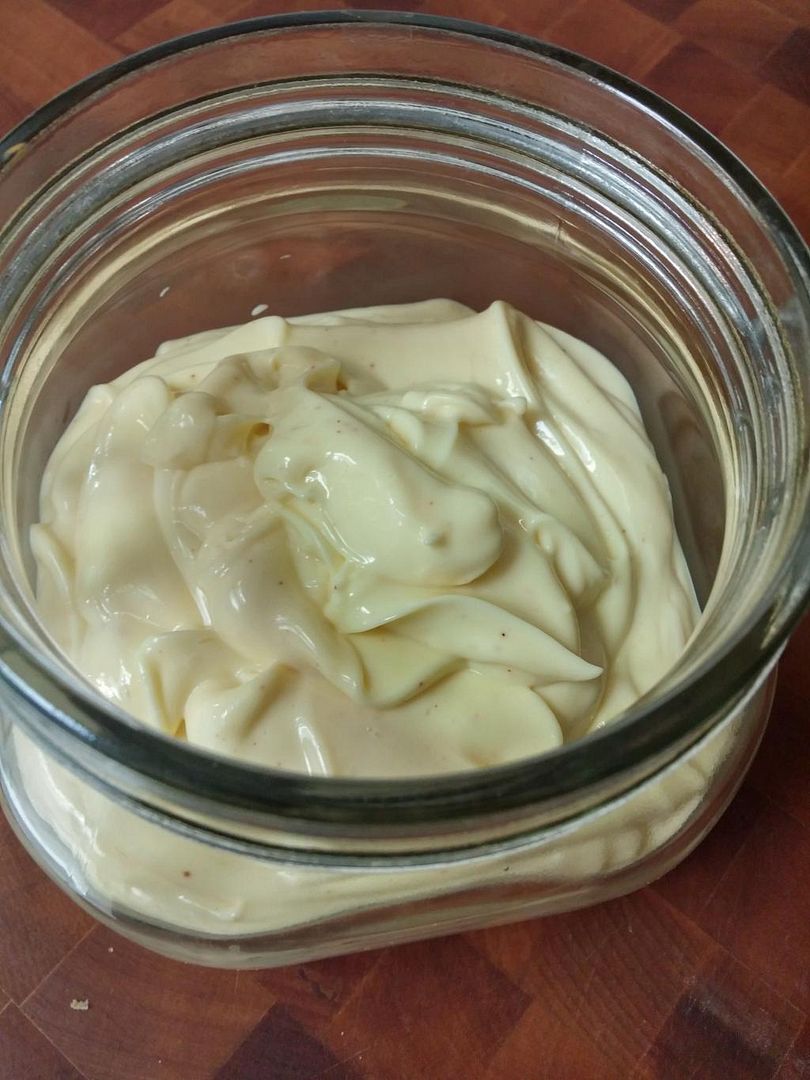 Other variations
For buttery mayo replace some of the oil with melted ghee. This will be a thicker mayo since ghee solidifies in the refrigerator. Just stir before using.
Replace some of the oil with melted bacon fat....yes, trust me.
Now go forth and make a BLT with bacon mayo..