After sorta hijacking Spinaker's post (
https://pitmaster.amazingribs.com/node/704534
) and mentioning Kent Rollins' version of a cheese steak sandwich it was suggested that I post the recipe here. Here is Kent's video on youtube: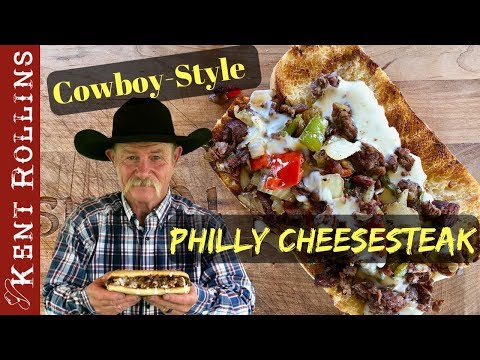 Here is his recipe, cut and pasted from youtube (my tweeks follow)
Cowboy Style Philly Cheesesteak Makes about 6
2.5 – 3 lb. Skirt or Flank Steak
Lime juice
Meat tenderizer
Red River Ranch Mesquite (
http://www.kentrollins.com/shop-1
)
1 red bell pepper
1 green pepper
1 Large yellow onion
2 tablespoons butter,
melted Cheese sauce (below)
About 6 hoagie rolls
-Rub lime juice all over one side of the steak. Sprinkle on the meat tenderizer and rub in, followed by the Red River Ranch Mesquite (or seasoning of your choice). Repeat on the opposite side. Cover and place in the icebox for 6 hours or overnight. -Remove the steak from the icebox about 30 minutes before grilling. -Slice the peppers in large pieces and remove the seeds and veins. Cut the onion in large slices. Place the veggies and steak on a cleaned and oiled grill. Grill until the steak is medium-rare to medium and the vegetables are tender and slightly charred. -Allow to cool. Chop the veggies and place in a large cast iron skillet with the butter. Chop the steak and stir in with the veggies. Allow to simmer over medium-low heat for about 10 minutes, stirring occasionally. -Meanwhile, put together the cheese sauce (below). -Butter the inside of the hoagie rolls and place butter-side down on the grill. Grill until toasted. -Spoon the meat and veggie mixture on top of the hoagies and top with the cheese sauce. Serve warm.
Cheese Sauce
2 tablespoons butter
4 tablespoons all-purpose flour
2 cups milk (plus more, if needed)
8 oz. Provolone cheese
1 ½ - 2 tablespoons prepared horseradish
In a saucepan, melt the butter over medium heat. Stir in the flour until smooth. -Stir in the milk and continue cooking until it thickens to a thick cream consistency. Tear the Provolone into pieces and slowly add to the mixture, while stirring. Cook until smooth and all the cheese has melted. -If needed, slowly add more milk (about a tablespoon at a time), just until the cheese sauce can be poured. Stir in the horseradish, to taste. Pour over the cheese steaks.
My changes:
Instead of green bell peppers, I used poblano peppers
For the cheese sauce:
I added one handful of shredded cheddar and 1/4 - 1/3 cup grated Parmesan cheese.