A few years back I posted cooks from the holy trinity of south Louisiana stews; gumbo, etouffee and jambalaya. I featured gumbo in the recipe section but the other two in SUWYC so unless you search, their recipes are somewhat obscured. I thought I'd refresh, revisit and otherwise repeat the jambalaya post in the recipe section, so consider this a redux.
Jambalaya
Decided to give the smokers a rest (rainy day anyway) and go Sunday traditional. For us that usually means roast or stew and today's fare is one we cook in a regular rotation, jambalaya !! Jambalaya is one of three main stews found in south Louisiana cooking, etouffee and gumbo being the other two. Jambalaya differs in that its a one pot stew which includes rice in the cook instead of served over or with the other two. It's a stew with it's origins in New Orleans inspired by several European dishes especially Spanish Paella, but instead of the traditional saffron they substitute tomatoes.
Jambalaya, like other soups and stews, is traditionally done with some sort of sausage, veggies called the trinity (equal parts bell pepper, onion and celery), tomatoes, rice and some other form of protein (pork, chicken or seafood). We always make ours with shrimp and occasionally shrimp and chicken.
Although a lot of prep, it cooks up within and hour and you're eating one of the most complex and flavorful stews out there. Easy to do but incredibly satisfying, let's cook some jambalaya....
Course.
Lunch or Dinner.
Cuisine.
American, Louisiana
Makes.
6 to 8 servings
Takes
. 45 minutes prep, 45-60 minutes to cook
Difficulty.
Easy
Ingredients
2 pounds Gulf shrimp, 16-20 count, peeled and deveined (reserve the peelings)
1 pound Andoullie sausage (or equivalent pork sausage like Chorizo), cut into 1/4" disks
2 tablespoons olive oil
1 large bell pepper, seeded and diced
3 large celery ribs, diced
1 large white onion, diced
1/2 head garlic, cloves finely diced
1-28 ounce can roasted, diced tomatoes
2-3 tablespoons Cajun seasoning (recommend Tony C's) (to taste)
1-2 teaspoons cayenne pepper (to taste)
2 bay leaves
1 bundle fresh thyme
1 teaspoon Italian seasoning
1-1/2 cups long grain rice
3 cups reserved shrimp stock (instructions below)
1/3 cup dry white wine
3-4 scallions sliced on the bias for garnish
Directions
1. Clean and devein the shrimp, refrigerate for later. Place the shells and any heads in a pot with 4-5 cups of water. Season with one teaspoon of Cajun seasoning. Bring to a boil, then simmer for about 20 minutes. Strain the shells from the stock and set aside.
2. Do your mise en place of the veggies. Slice the sausage into disks.
3. In an 8 quart Dutch oven begin by rendering out the sausage in three counts of olive oil, in this case a nice Andouille, a creole pork sausage. Leave the rendered fat in the pan to cook the veggies which get tossed in to sauté and soften. Begin to build flavor profiles by seasoning each layer with the Cajun seasoning. Cook for about 4-5 minutes.
4. Once softened, add the garlic and continue cooking for another 5 minutes to incorporate. De-glaze the pan with the white wine. Stir and continue cooking. Next add the 28 oz. can of chopped roasted tomatoes, stirred in and seasoned.
5. Once that's fully incorporated add in 1-1/2 cups of long grain rice to the mix. Stir again to incorporate.
6. Add to the pot 3 cups of the reserved shrimp stock as well as the final seasoning which includes the bay leaves, Italian seasoning, thyme bundle and cayenne pepper. Cover and allow to cook on medium heat for 25 minutes or until most all of the liquid has been fully absorbed by the rice.
​
7. Once the liquid is fully incorporated, give the pot one last stir. Season the shrimp with the remaining Cajun seasoning and add to the pot. Stir them into the mix to allow them to fully cook.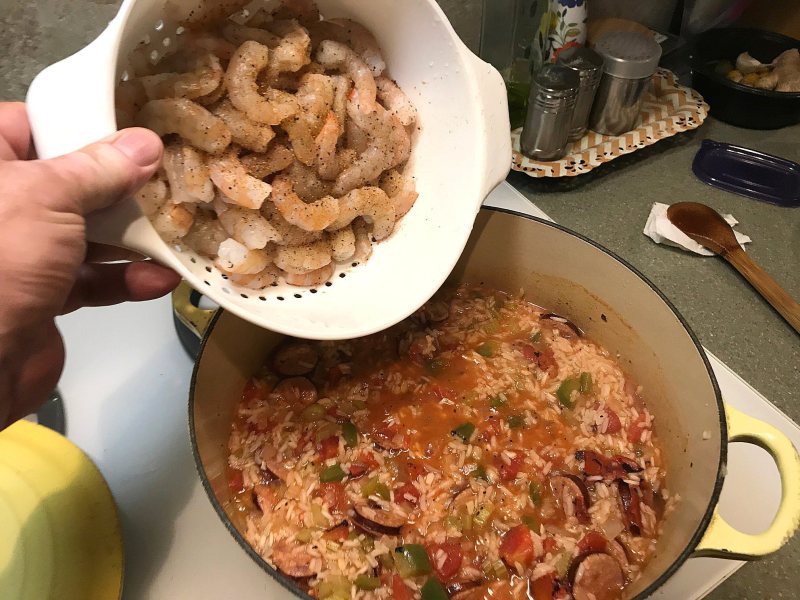 8. Cook the shrimp for about 15 minutes or until they turn a bright pink color. Do not overcook, keep them moist and plump. The jambalaya is ready to serve.
9. Ladle into bowls, garnish with some chopped scallions, serve with some crusty bread and enjoy one of Louisiana's finest!
For cold, rainy days nothing warms the belly like a good pot of classic jambalaya

Git You Some of Dat Y'All.....Troutman (is chowing) Out !!!