I've been making this for over 15 years and it is always a crowd pleaser. Instead of pictures, I decided to try making a Youtube video. Not sure I will do this again, I don't like how my voice sounds in the recording.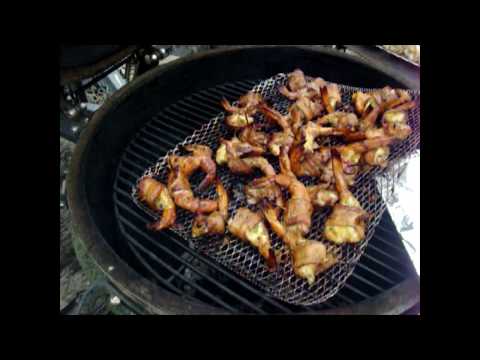 If you are by yourself, it takes awhile to make them but if you have friends or family handy enlist their aid and the process goes a lot faster. In the video I was wrong: stuffing and wrapping the shrimp is the most time consuming part.
One Note: These usually are not that spicy. However, the jalapenos I bought this time are the hottest ones I've ever had. I should have tasted one first. If I had tasted one, I would have used 1/2 of a pepper in the mixture. I like spice but not everyone does so I try to go easy on the heat when I cook for others.
Bacon Wrapped Stuffed Shrimp
Large or Jumbo Shrimp - I usually do about 5 lbs each time I make these.
2-3 Jalapeno peppers
2-3 Cloves garlic
Colby-Jack cheese - shredded
Bacon - I use HEB's Jalapeno Bacon
Toothpicks
Marinade (Recipe below)
Shell the shrimp (use shells/heads to make shrimp stock - recipe below)
Butterfly the shrimp and remove the vein. Mince one jalapeno and one clove of garlic, put in mixing bowl. Take a good handful of the shredded cheese and mix with the minced jalapeno and garlic then squeeze together to make a fairly solid cheese mass (pre-shredded cheese has anti-caking agents and takes a little more squeezing than freshly shredded cheese). Cut the bacon strips into thirds.
Take a good sized pinch of the cheese mixture and put in the butterflied shrimp. Wrap with 1/3 strip of bacon and secure with a toothpick. Repeat until all shrimp are stuffed, making more cheese mixture as needed - for 5 lbs. I usually make three batches of the cheese mixture.
Put shrimp in large bowl, pour marinade over top, and gently mix to coat all shrimp without letting the stuffing fall out. Refrigerate for 1 hour or so.
Get grill hot - 350* or more - and place shrimp on a fine mesh grill topper. Grill, turning occasionally, until bacon is done but don't overcook the shrimp. Be sure to remember to remove the toothpicks as you eat them, especially if they burned off even with the shrimp. Enjoy!
Marinade:
1/2 - 1 Bottle of Tiger Sauce
2 Tbps Oil
1 shot of rum, tequila, or booze of your choice
Juice of 1/2 of a fresh lime
1 tsp Dill Weed
Kick it up with a tablespoon of Chipotle puree if you wish - i forgot to add this in the video
Shrimp Stock
Shells (and heads if you used whole shrimp)
1 onion, quartered
1-2 carrots, cut into 3" lengths
1-2 celery stalks, cut into 3" lengths
You can also use a handful of fresh parsley or various other vegetable scraps from whatever you are preparing (go easy on pepper scraps and strong herbs like rosemary). The leafy tops of a celery bunch can be used instead of celery stalks.
This same recipe can be used to make chicken or beef stock, or any stock really. Seafood only cooks about 20-30 minutes once added otherwise the flavor gets bad. Other meats (and bones) can simmer for hours. When using bones I roast them first at 450* until the meat scraps attached to them turn golden brown.
In a 2 gallon stock pot (or other similar-sized pot) add water to 2/3 full. Add veggies, bring to a simmer, cover and simmer a couple of hours until veggies are soft. Add shrimp shells/heads and simmer on low for 20-30 minutes and drain through a fine mesh colander. Use the stock for gumbo, bisques, soups, etc. I freeze unused stock.