I have been using the SNS Kettle grill for a couple weeks now and wanted to share some of my first impressions.
I love all the features on this that differentiate it from the kettle grill. Having the thermometer probe port and fan port in it are awesome. I hate drilling holes in my Weber Kettles so having those already on there with the covers is awesome.
Having the top vent and thermometer on the same side is awesome as well. The thermometer is closer to the cooking grate than a Weber so it is pretty accurate. There is generally maybe a 5-10 degree difference between what my grate thermometers and the dome thermometer on this grill. With Webers it is usually a 20-40 (or more) degree difference.
The lid bale and side table are also great additions. I have two stainless steel performers I have never cooked on because I didn't really think I would use the table but I love having this table on the grill. It is great for holding a tray of meat, thermometers, tongs, etc. Having the Easy Spin grate is nice too.
Everything went together well and everything seems very sturdy so far. No real wobble in the legs, the lid fits snug, the ash catcher is easier to remove and put back on than my kettles, and I can't really see any flaws in the paint. I have only had it a couple weeks so I have no idea how it will be in 2-3 or more years but right now it is solid.
So far I have cooked some smoked queso, tri tip, a pork butt, a brisket (using the Billows), some chicken wings, a random hunk of sirloin, and probably some other stuff I have forgotten. I know it isn't anywhere near a scientific test but for the long brisket and pork butt cooks this grill seemed to hold temps a bit more steady than the Weber kettle. Again, there are dozens of different factors that come in to play there and it is just my quick observation.
For the long cooks and the low temp parts of the reverse searing I totally closed the bottom vents and just used the fan port for airflow and it worked like a charm. Again, just my observations but it seemed easier to control the temps that way.
Overall I am a big fan of what the SNS folks did with this grill. They took a great kettle concept and added in most of the features kettle fans want. I was expecting this grill to feel a bit more rickety than the Weber kettle but it feels very solid which is pretty great for a product just coming out of the gate trying to compete with someone who has 60 years in the market.
If you have a Weber Kettle I don't know if you necessarily need to rush out and buy one of these too but if someone is looking to get a good backyard charcoal grill that is versatile and well made the Slow 'n Sear Kettle would be right up there with a Weber in my opinion. It is $115 more than the Weber Premium Kettle but the added features could be worth it. It's closest comparison is probably the Weber Performer (the one with the small side table) but with the added fan ports, thermometer port, better airflow, etc. I would say buy the SNS Kettle instead.
If you want to read a bit more:
Slow N Sear Kettle Grill Review
And here is a video I put together showing some of the features of this grill: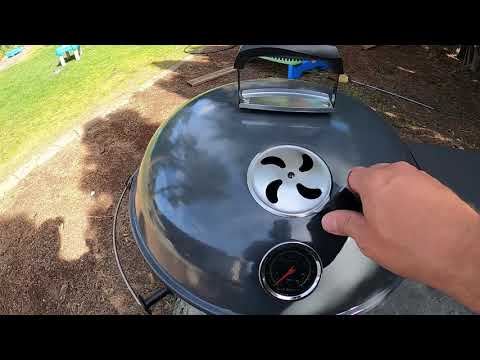 I am sure Max or one of the other staff will be putting up a more thorough review of this grill at some point and I am looking forward to reading that. Maybe they will pick up on something I missed.