I hope I have put this in the right thread and let's get the obvious out of the way. Yes I know the Char Griller is a COS that leaks and isn't very good, but it is what I have and I do not have the budget to get a proper offset. All done? Good!

lol
This is what my smoker looks like.
I have already done a number of mods to my smoker.
Baffle: The basket is upside down as a "poor man's baffle plate".
Chimney Stack: Stack elongated to grate level.
Smoking chamber: Attempted to seal the leaky smoking chamber with adhesive smoke seal strips (it is a million times better, but still not "perfect".
Fire basket: Made a fire basket from expanded metal, might need to make a new one from thicker metal, however.
This has all been a lot of fun and I have really enjoyed doing it so in a way it's not a bad thing that this is the smoker that I have.
Now for what I would like to do in addition and that I am hoping someone in the community might be able to give advice on:
Baffles: The upside down coal basket is fine, but I am sure I do not have to tell you all that balancing drip pans and water pans on a curved surface is far from ideal. I'd like some proper metal for a baffle that then rests flat, does anyone have any suggestions?
Smoking chamber: Ideally I'd like this to be less leaky, does anyone have experience in either fitting angle iron to make a "lip" on the inside or any other clever ideas?
"Cooking plate": I have seen a lot of offsets have a piece of metal making a shelf above the firebox, e.g. this one: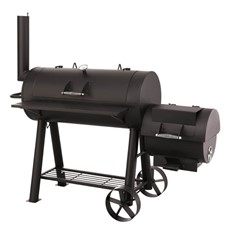 I am guessing that the purpose is as a home for a coffee pot, or a sacuepan with a mop sauce to keep it hot? Does anyone have any experience in adding one? From looking at the lid of my firebox I would think it should be an easy enough thing to do?
Any help/advice/suggestions you can give me would be most appreciated. Thank you.