I have been waiting for Chris Goodlander to let his new pellet cooker roll out settle in before I went to see it first hand. With the COVID lock downs and various travel restrictions, that got pushed even further. I had been keeping in touch with him via email and with the post by
Alphonse
last week as a reminder, I finally got a chance to make the journey up to Willis to see this anticipated new offering.
I'll begin by posting the same video as many have already seen as a more comprehensive explanation by Chris himself. I also messed up and thought we were going to be outdoors so I brought the wrong lens for my camera, so pictures on my part were a bit spotty.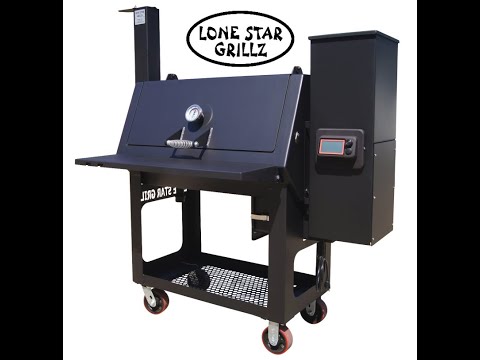 First impressions were as anticipated. Build quality was very good on both the 36" and 42" units. The cooking box was the newest squared off design he introduced to his new line of stick burners. It provides better top and front clearance to accommodate more cooking volume. The cooking chamber was all welded 10 gauge with the hopper and cart made form 12 gauge steel.
Fit and finish were superb as with all his cookers. The front door was tight and gasketed to provide a tight cooking environment while being large enough when opened to access the cooking grates easily.
The cooking grates were standard carbon steel expanded metal. Tons of room especially on the bottom grate, to more than accommodate larger cooks. I could envision 12 pork butts on the 36" and probably 16 on the 42".
The tall rather slim hopper unit was attached to the right hand side. The top was the actual hopper that holds I believe 40# of pellets. It has a pellet dump at the bottom of the hopper for easy pellet change out.
The lower end held the auger assembly and the fans. In the middle was the real brains of this unit, the Fireboard controller. Most of use are familiar with the precise PID control afforded by Fireboard. This unit is very similar to their Generation 2 model but with a variety of settings to enhance this pellet specifically.
There's a cold smoke setting that pulses enough heat to the burn pot to "smolder" the pellets, thus producing smoke with little or no heat. The cooking range varies from 160* on up to 450*. Shown above they also provide a probe port to accommodate up to 6 probes, similar to the Fireboard stand alone units.
The auger unit and the burn pot are also unique and thought through. The pellets are delivered by an "open center" type auger that all but eliminates auger jams. Once in the pellet burn pot, ignition is accomplished by blowing air over a hot rod to ignite the pellets, eliminating the need to change the hot rod due to erosion from heat and direct contact with burning pellets. The pellet pot itself is clipped to the base of the cooker and can easily be removed to clean out built up ash without having to disassemble the heavy diffuser plates from the top.
One thing I always look for in these units is how grease is gathered. Heavy gauge 1/8" deflector and grease plates are bent and sloped causing grease to move away from the burn pot right hand side to the far left then down to the base of the unit. There grease can escape through a hole in the base to be collected in a bucket below the unit. A ball valve is available to control the flow.
As with all pellet cookers, LSG attempts to be a grilling machine by having a sliding trap door open to a series of slots that allows direct access to the burn pot. I asked him what prevents the grease from dripping down into the base of the unit and/or directly into the burn pot and he admitted nothing. I got the impression the this feature was almost there as an expected amenity more than a practical one.
The unit is mounted on a heavy duty cart with lots of storage space beneath. With all his unit, this monster (some 300# in all) is moved around by heavy duty casters. There's also upgraded large rubber tires that can be mounted for off road or pulling behind your Cowboy Cadillac pick-up truck !!

There are a lot of little details that make up this unit that you can see for yourself on his website or in his video above. Chris really did his homework and thought through just about everything that could go wrong, as well as everything that does go right, and incorporated it into these beauties.
Could this be the perfect pellet cooker? Well not having cooked on one, it's hard for me to make that call. Compared to the high end P&S pellet I have, with it's older technology, I would say he's hit the mark for everything I would want in a pellet cooker. Only time and a few cooks will say for sure, but I don't think it's a stretch to say this may be one of the finest pellet cooker I've seen, there is definitely light at the end of the tunnel !!
HITS
1. Outstanding design and build quality. By utilizing heavy gauge construction, heat retention and longevity are made superior.
2. Well thought out pellet delivery system.
3. Hot air ignition system eliminating hot rod change outs.
4. Ability to clean the burn pot externally.
5. Pellet dump on the hopper a big plus.
6. Large accommodating grates for tons of cooking surface.
7. Seems like a reasonably decent grease removal system, keeps grease well away from the burn pot.
8. And of course the brain, the Fireboard controller. Nothing more needs to be said about that.

MISSES
1. Not as much a miss but does give one pause, this unit with all the goodies ranges from the mid to high $2000 range. That puts it in the high end, elite category of pellet cookers. This is a serious piece of machinery.
2. Long wait times. Up to 12-14 weeks which is not unlike most custom pit builders. Chris says he's upgrading his operation in a new facility and will be cranking out a lot more units soon.
3. Grilling port. Maybe I'm being overly critical but trying to grill on a pellet cooker is somewhat of an oxymoron. Forget the attempts to make these machines something they are not.
4. No hinges on the pellet hopper cap, just loose. Couple of cheap hinges and maybe a latch would be a simple add.
5. Burn pot location seems to be way off center to the right. It cuts down on auger length but may cause uneven heating across the chamber. Again I have not cooked on or tested the unit to be sure of that, it's simply an observation.
As mentioned, all American built in Texas by one of the nicest couples I've run across. What makes these units special is more than the attention to detail and the great build quality, they are made by folks who have a passion for barbecue and know what it takes to make a great cooker. Other than how well they perform in real time, I gotta think this unit is approaching the Platinum level for sure. Maybe Max can sweet talk them into a test unit soon !!
Troutman's out, got my eye on one of his Santa Maria unit, just gotta talk mamma into it !!!