Every now and then I google new products. This time I found a gas grill that looks interesting. I'm not in the market for one. I can really appreciate the convenience, I've had one for a few years, but that was some time ago. My main issue with most gas grills is that they are large (or huge), and most of it is just a thin sheet metal box. That's just my personal 'look' preferences, but still.
But Heston Blumenthal has a whole series of grills, and I found one model called the Everdure Furnace that looks rock solid.
I haven't seen it IRL yet, but judging from marketing material and a few YT videos, here's what I really like so far.
1. Cast aluminum "shell", just like PK
2. No vents (moving parts), just a very cleverly designed air outlet at the bottom rear edge of the lid. Here's a winner for low 'n slow smoking on a gasser.
3. Stainless steel burners
4. Cast iron grill grates, where the drip guards are built into the grill grates (instead of being flimsy sheet metal wedges)
5. You can swap out the grill grates(or some of them, as it comes in 3 sections), to solid cast iron for your smash burgers, or if you want to use it as a griddle.
6. It actually comes in various colors. Nice!
7.You can lift it off it's main legs, and then again, so it can get really small if you need it for tailgating.
Does any of you have any experience with this? I think it looks REAL good.
Here's a short commercial video that demos its main features: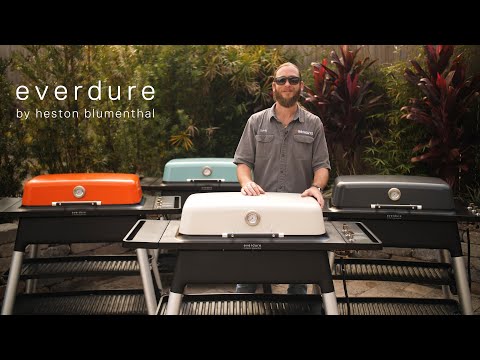 What do y'all gas grill fans think?