Looks like SNS Grills just put out a new toy: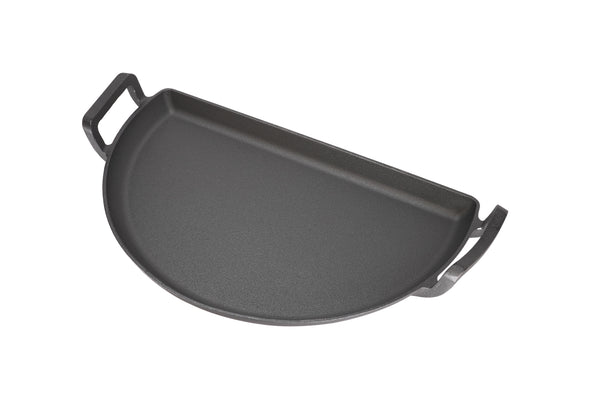 3-in-1 Grill Accessory - in Cast Iron! The Drip 'N Griddle Pan – 22" Cast Iron has the same three functions many of you know and love about our other pans, but now made in cast iron. That means you get a non-stick surface, a perfect companion for searing up a ribeye, and no more warping over direct high heat!See it in action! Cast Iron Drip Pan Made from cast iron, the Drip 'N Griddle Pan is contoured to fit perfectly next to the Slow 'N Sear® on the charcoal grate and helps with airflow. The air from the bottom vents is forced to exit through the bottom of the Slow 'N Sear, which makes the fuel hotter. Also, say goodbye to messy foil – even the biggest messes are contained by the Pan's raised edges and the easy-access side handles make cleaning up after a cook a breeze! (while using heat-tolerant gloves) As a bonus, using this pan as a drip pan will help season it - preventing it from rusting! Cast Iron Griddle This is the highlight of the Drip 'N Griddle Pan - Cast Iron. Heat this pan up until it is white-hot, then drop some steaks, burgers, or anything you want to sear! No more bringing a cast iron pan outside; this fits right on top of the grate directly over the Slow 'N Sear®. Perfect searing is now even easier! Cast Iron Heat Retention Cast Iron has excellent heat retention. While it is even better than stainless steel, be careful as to not overcook the food you are trying to keep warm.  How to Season a Cast Iron Surface If your pan is dirty, clean the pan with hot water, a brush and coarse salt if needed. Never use dishwashing liquid. Preheat your grill or oven to 400°F. Dry the pan thoroughly with a clean cloth or paper towel. With a lint-free cloth or paper towel, apply a thin layer of oil to the entire surface of the pan. Using an oil with a high smoke point, such as vegetable or canola oil. Place the pan in preheated oven or grill and allow the pan to cool in the oven or grill. Wipe off any excess oil before storing the pan. Outside storage may introduce some rust if not properly. seasoned. If rust appears, simply repeat the process above.  Compatible with 22″/26″ kettles and the Weber Summit® Charcoal Grill.Slow 'N Sear® insert and grill are sold separately Product Dimensions Width (not including handles): 18⅛ inches Width (with handles): 20½ inches Depth: 11 inches Wall height: 1¼ inches Wall height (with handles): 3 inches Weight: 10 lbs Thickness: ⅛ inch (0.125 inches)
This could definitely be useful for smash burgers, searing steaks, and cooking bacon. Got mine ordered! Can't wait to add this to the arsenal.