---
From:
Operation BBQ Relief <

[email protected]

>
Reply-To: Operation BBQ Relief <

[email protected]

>
Date: Monday, November 21, 2022 at 11:15 AM
To: <

[email protected]

>
Subject: From the Heart - November 2022
​
---
Message from the Co-Founders
​
Operation BBQ Relief broke records for the largest and longest deployment during the Hurricane Ian deployment. In 2018 following Hurricane Michael, Operation BBQ Relief provided 808,220 meals during a 30 day deployment. We recently provided 865,603 meals in response to Hurricane Ian during a 38 days deployment. We are amazed at the generosity of sponsors, volunteers, and supporters as we share the healing power of BBQ. We had over 800 volunteers from 26 states that helped share the one hot meal that matters.

We included a Volunteer Spotlight below that will warm your heart on why the healing power of BBQ is two-fold as both the volunteer assisting in preparing the meals also benefits alongside with the meal recipient. Gary Brownsberger is a United States veteran and Operation BBQ Relief volunteer that was inspired while serving with us in southwest Florida. We are grateful for Gary's service and all individuals that have given their time and support.
Thank you to all volunteers, sponsors, and supporters! We wish you and your family a wonderful Thanksgiving!
Much gratitude,
Stan Hays
CEO
Will Cleaver
CPO and Head of Finance
---
​
Disaster Response
​
Watch the Operation BBQ Relief team in action as they send meals to Sanibel Island. The team started off in the early morning hours from Port Charlotte, FL by pulling meat from the smoker and transferring Cambros via forklift and then delivering meals into the field. It's a Herculean task that transforms the hearts and souls of volunteers and staff.
​​​
VIDEO:
---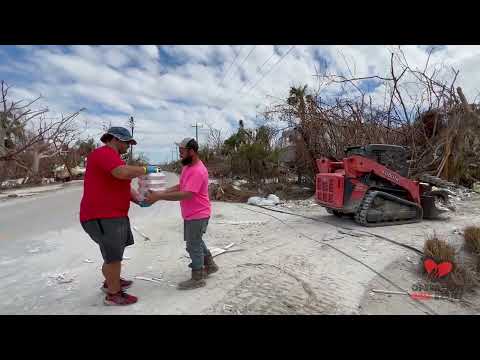 ---
DONATE:
https://operationbbqrelief.us6.list-...=874af85748&e=
31e535037a
---
Rachael Ray Show
​
Rachael Ray welcomed Stan Hays to discuss the mission of Operation BBQ Relief and the organization's most recent cookbook Grilling with Golic and Hays.
​
Watch:
https://operationbbqrelief.us6.list-...=8d7cc557c5&e=
31e535037a
---
Save the Date for Giving Tuesday
​
Operation BBQ Relief teamed up with the United States Coast Guard Aviation Logistics team in Elizabeth City, NC for a 75th Anniversary celebration. Operation BBQ Relief shared pit master techniques with the Junior Culinary Specialist Coast Guard team while cooking pork, brisket, and whole hogs. We are honored to serve those who serve us.

"The United States Armed Services neither explicitly, or implicitly, endorses, sponsors, or is affiliated with Operation BBQ Relief. Images of military persons in uniform may contain protected Military Service marks and identifiers."
​
---
Volunteer Spotlight
​
"I have been volunteering with Operation BBQ Relief following Hurricane Ian. Somehow, you people have managed to create a business model that is self motivating!!
You've created an environment where you just work so hard but feel like you should do more! You're worn out, yet you do not want to leave your team! I've worked for several days and took the day off today to pace myself. It's killing me! I look out my window seeing my new friends work, and I want to be out there!
What we're doing here is not complicated, it's not magic. We're just putting hot food in people's tummies!
I am a person with a disability. I have a paralyzed right leg, a pinched sciatic nerve on my left, and a bad back. I have to go back to my camper and take several breaks throughout the day but no one cares! No one even questions it. They just appreciate all the things that I accomplish! They are always pushing me to slow down. But when you see that every meal matters! Well, that's kind of it, isn't it? EVERY MEAL MATTERS.
Understand I'm a veteran who has eaten my share of MRE's (meals ready-to-eat). When I went out and passed out meals, a lady came up to me and said 'my husband and I can eat the MRE's but I can't get my three children to eat them. May I have three of your meals?'
I said no you may not, but you may have five! I then set her up to find out where to eat hot lunches and dinners at the places we deliver to, and instructed her to not give another MRE to her children!! You cannot imagine how happy this woman was. I myself couldn't sleep that night. I kept imagining kids eating MRE's.
I won't lie, everything I have is sore and hurts! But I feel happier in the middle of all this devastation than I have in years!! I can see firsthand the difference I'm making! For the first time in a while, I feel like the earth is better off with me on it! So it's I that want to thank you! I'm staying here until you MAKE me leave!"
Gary Brownsberger
Veteran and Volunteer
Operation BBQ Relief
---
Volunteer
​ Help share the healing power of BBQ! Make new friends! Register to volunteer on the Operation BBQ Relief App or sign-up at

www.obr.org
---
Volunteer Nominations
​
​
If you know an Operation BBQ Relief volunteer who has gone above and beyond this year, please recognize their efforts by
clicking here
to submit a 2022 Award Nomination for them!
​
---
Shop
​
Help further OBR's charitable mission!
Purchase Operation BBQ Relief Winter Gear by November 27th to receive in time for the holidays!
​Purchase:
https://operationbbqrelief.us6.list-...7&e=31e535037a
---
Grilling with Golic and Hays Cookbook
​
Stan Hays and Mike Golic teamed up with an incredible lineup of celebrity chefs, athletes, and coaches to present Grilling with Golic and Hays: Operation BBQ Relief Cookbook!
​
Order Cookbook:
https://operationbbqrelief.us6.list-...=c62db24f26&e=
31e535037a
​