I'm a little late to all the vacuum sealer discussions going around lately, but that's what inspired me to get one. Thanks a lot people…😡 I'm beginning to believe if I hang out here much longer I will die penniless. I've got an old Food Saver brand I quit using several years ago for whatever reasons. I've had 2 different ones over the years and they were ok, nothing great though. I read a lot of y'all's posts, old and new, and excellent recommendations before finally deciding on this one. It's from a brand called Potane. I'd never heard of them before, but decided on it for the features it has, which checked all my boxes.
I read a lot of the Amazon reviews on it, and after weeding out the idiots, it got mostly excellent reviews and recommendations. One of the features it has is a brushless motor, which I've always heard is better than one with a brush…😂 Don't know what it means, but I have heard brushless motors were best. They also have a 2 year - no hassle return policy and it comes with a 5 year warranty, pretty damn good IMO.
I also like the one hand operation, you just lift or push down the handle in the middle to open or close the lid. My favorite features are the built in storage and cutter bar, it works well! I also like the different modes available. You can Seal Only, Vacuum Only, Vac and Seal along with a Canister option. The Vacuum only mode is good for delicate foods you don't want to squish [technical food term here] It's manual, so it will stop suction whenever you want, then just hit the Seal button, pretty cool.
​
It comes with 2 rolls of bags, one 8" roll and one 11" roll…a vacuum hose for canisters and they even give you an extra suction channel gasket, nice touch. There's also wrap around cord storage in back.
Bag storage and bag cutter…I like!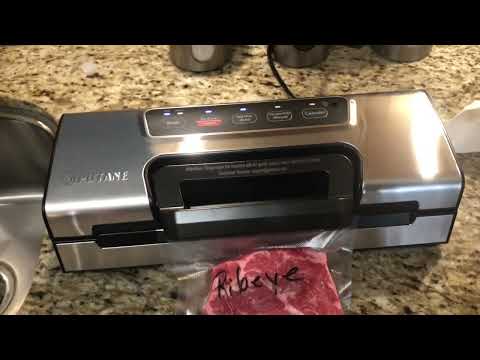 I had just bought a package of Costco ribeyes and a pack of NY Strips. This was a perfect time to give it a workout. I had 8 steaks total to seal for the freezer. I found I really like this bad boy! It was fairly quiet for a vac sealer, had strong suction and was easy to use. My old Food Saver brand had a button on each side you pushed in to open and close, I like that the Potane has the handle in the middle for one handed operation. This one also has a fairly compact footprint and feels well built.
Being a man, I didn't read the owners manual first.

My mistake! It has a Dry and Moist setting. For wet foods like steaks, chicken etc. it should be set to Moist, default setting is Dry. I noticed my first few bags had a little bit of red liquid seepage outside the seal. I decided to read the manual and learned I should be using the Moist setting. I also found out that for dry foods you should allow at least 3" of space from the food to the end of the bag. If you're doing wet foods you should add 2 more inches to that. As you can see in the video, I didn't do that for a few of my bags. After I did that, all the rest of the bags sealed fine. I don't know if this is average or not, but it took about 10 seconds to seal an empty bag. Overall I really like this food sealer, it's much better and more feature packed than my old Food Saver brands. I'd definitely recommend it if you're in the market. Currently $123.00 on Amazon.
https://www.amazon.com/dp/B08QGX549G...JA8VCQ6AJPRJGV