Today I made a kielbasa recipe I found on Ethan Chlebowski's youtube channel. Ethan is of Polish descent and this recipe has been in his family for generations. His grandfather wrote it down in 1966 but Ethan mentions that it has been around since before WW2. Ethan's dad has my dream prep kitchen: basically his own meat shop with walk-in cooler, walk-in smokehouse, and commercial equipment. I glanced at his dad's Instagram account which Ethan posted on youtube and it appears that he is a doctor and charcuterie is his hobby, but it is mentioned that the family had a meat market in Poland.
Here is the video and the recipe: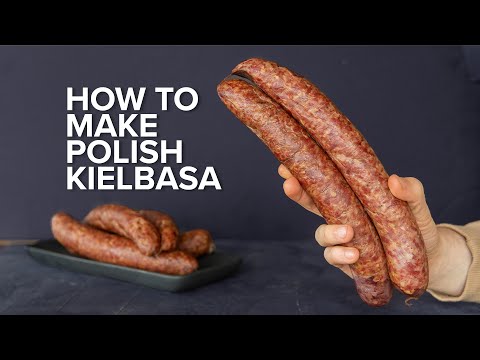 Link to the recipe:
https://www.ethanchlebowski.com/cook...olish-kielbasa
Ingredients:
Desired amount of 70/30 Pork (or beef, venison, etc.) Goal is about 30% fat.
For the spices below multiply the weight of the meat by the percentages of spices. For example, 454 grams (1 lb) of pork X 0.0175 (1.75%) gives you about 8 grams of salt.
1.75% Salt
1.75% Brown Sugar
0.5% Black Pepper
0.25% Cure #1
0.187% Garlic Powder
0.125% Whole Mustard Seed
0.0625% Pickling Spice
0.0313% Marjoram
Water
Sausage Casings
Note on pickling spice:
In the video I see the whole mustard seeds but the pickling spice looks to be ground. This makes sense since the McCormick pickling spice I have is whole allspice berries, whole cloves, bay leaves that are very coarsely broken up, red pepper chucks (not flakes), and more - these would not be evenly distributed unless ground and I didn't think the meat grinder would do a good job grinding the spices. I have never used pickling spice for anything before so I don't know if you can buy it pre-ground. I fine ground it using a vintage coffee grinder attachment for my big Hobart grinder.
Mix the measured spices into cold meat chunks (or ground meat if using).
Note:
the meat grinds better if very cold, almost frozen.
Add the meat to the grinder and push it through. Once the meat is ground, pour water over it and start mixing it by hand. There aren't specific measurements for the amount of water this is more of a
by feel
thing to see how much you want to add. Mix by hand, add water and adjust as needed.. At the end of the process, the meat should clump together and even sticks to your hand without falling.
Fill the sausage stuffing container with the kielbasa. Place the casing over the tube and slowly extrude the sausage into the casing. Once the sausage is stuffed, twist into links by pinching together and twisting the casing. Hang the sausages to dry for a few hours until the outside casing is no longer wet. Smoke the kielbasa until the internal temperature reaches 150 F. Rinse with cold water to stop the cooking process and hydrate the casings.
Here is mine before forming links. It is drying now. I'll smoke it on the KBQ.
I fried a patty and it is good. However, I'll reserve final judgement until after it is smoked. My inclination is to up the black pepper but I'll wait to taste the finished sausage before deciding. Also, thinking of using fresh garlic instead of garlic powder next time.