I have seen a ton of people on FB posting smoked queso. Most of those recipes use Velveeta but I wanted to give it a shot with real cheese. Nothing wrong with Velveeta but I know a lot of people have an aversion to it so I wanted to try this and see if it worked.
For my normal queso I use cheese, water, and sodium citrate. The sodium citrate breaks down the cheese proteins and makes a nice, smooth queso from real cheese without having to use a bechamel or anything like that. So I translated that into this smoked queso recipe.
You can scale this up and down easily using bakers percentages and going 100% cheese, 50-60% water, and 4% sodium citrate. Then add whatever else you want like meat, tomatoes, peppers, etc.
1000 grams Cheese - Pepper jack and sharp cheddar is what I used. Feel free to change that up. Smoked gouda would be great in here. You can use plain jack cheese and add a can of jalapenos too.
500 grams Water
40 grams Sodium Citrate
1000 grams Meat - I used leftover carne asada skirt steak but any good ground sausage would work. Chorizo would be excellent in here.
1 can Rotel I used mild Rotel but use whatever type you want. If you don't like much spice at all a can of fire roasted tomatoes would be a good option
2 tbsp BBQ Rub - Any good BBQ rub will work here. I would lean more towards a spicy rub than a sweet rub and used Meat Church Holy Voodoo. Holy Voodoo is pretty salty and the end product was definitely on the salty side of things but not overwhelming. If you use a salt free rub you might want to put a couple pinches of salt in.
Put it all in a pan (I used a cast iron dutch oven) and throw it on the smoker running at ~350 for about a hour stirring once or twice throughout the cooking process. I used some oak wood and charcoal on my new SNS kettle. I went pretty heavy on the smoke and maybe could have used a bit less but the end product was delicious. With the smoke flavor and the carne asada it was a pretty rich queso.
All in all it was nice to see that the sodium citrate did its thing here and made a nice, smooth queso. Everything melted great and came together nicely and tasted great. It reheated great too. Can't wait to make this stuff again.
And for you more visual people here is a video: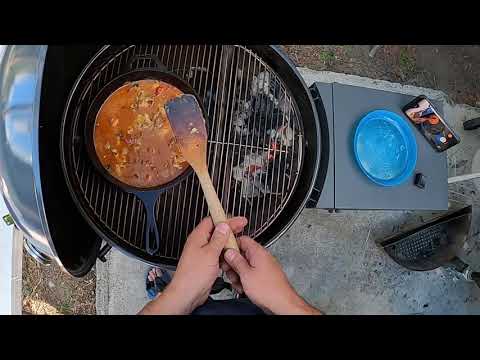 If you want to read more I wrote more about it here:
Smoked queso with real cheese
but all the relevant information is above.