---
As you probably well know by now, the initial dates of the Meat-Up In Memphis for this summer HAVE BEEN RESCHEDULED TO
MARCH 18-20, 2022.

Following are details from our Official Memphis Meat-Up Details & Reservations page.
---
Enjoy great food, fellowship, educational session in the pork BBQ capital of the world.
This event was scheduled for August 2021, but due to COVID concerns, we have rescheduled it for March 2022. Join us!
FRIDAY March 18: Event starts at 1 p.m. with Mark Lambert's whole hog prep two ways. Kickoff dinner at Rendezvous.
SATURDAY March 19: Seminars and Product Expo in the Peabody Grand Ballroom. Compart Duroc pork lunch and whole hog dinner.
SUNDAY March 20: Taste of Memphis BBQ in the Ballroom. Party at Silky O'Sullivan's in the evening.
MONDAY March 21: Check out or stay and tour Memphis BBQ joints and other attractions.
The best city in the world for barbecue
ApartmentGuide.com did the math
. They calculated which cities had the highest percentage of barbecue restaurants out of all restaurants. Guess who's #1? A whopping 12.09% of all Memphis restaurants were barbecue.
The Peabody Hotel
The Meat-Up in Memphis will be based in the famous historic grand
Peabody Hotel
, just around the corner from the famous
Beale Street
. The hotel's kitchen is highly regarded and we have ordered their best meal packages. You have probably heard about their famous "duck march." Watch
a video about its history here.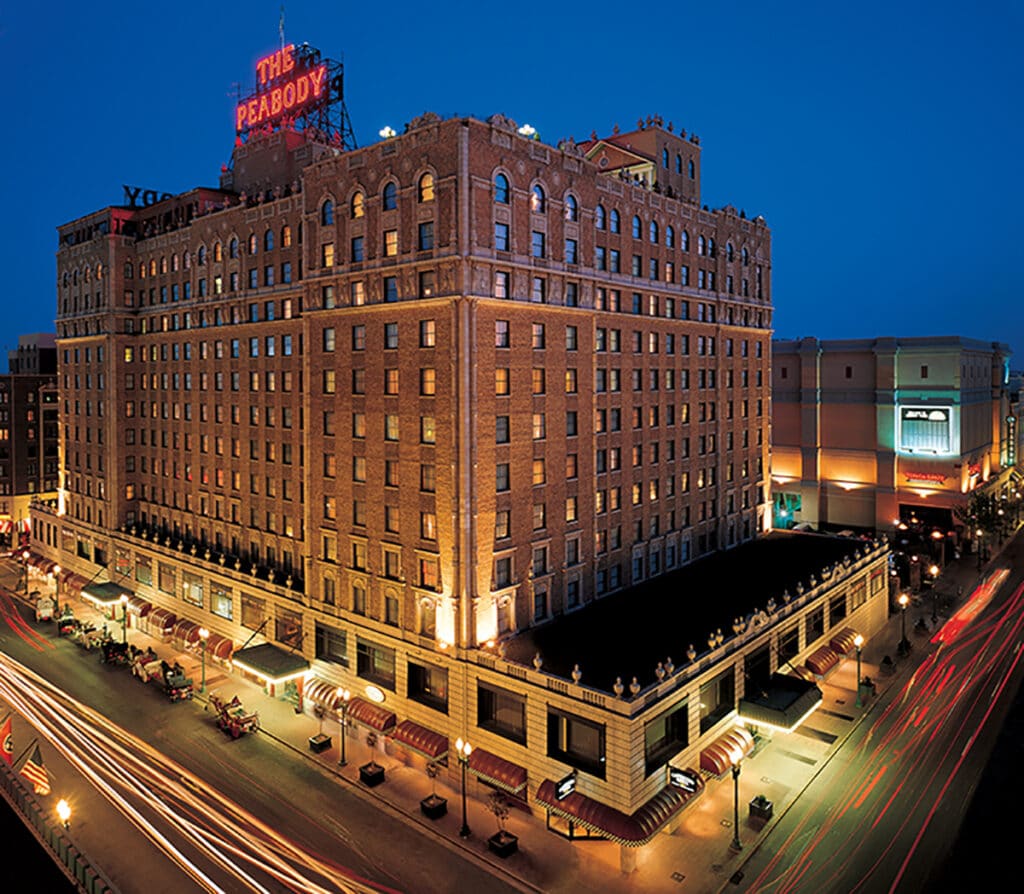 New reservations
The ticket price May 11, 2021 is only $727 and it includes all events and meals except Friday lunch and adult beverages.
Hotel rooms and parking are extra.
To guarantee your space, you can
make a $363.50 (50%) deposit now.
You must pay in full by December 1, 2021 or we will offer your seat to someone on the wait list. We expect to sell out well in advance.
If you are buying more than one ticket you need to fill out the form
for each person.
Please enter the other party's email so we can communicate with them directly.
Alas, there is no room for guests at any Meat-Up meals or events, but they can explore Memphis and re-group with you in the evenings.
If you booked on or before May 10, 2021
If you paid in full or made a deposit on or before to May 11, 2021, we will honor the price we advertised even though our costs have gone up
. Click here to see if you have made a deposit and if you have a balance due.
You must pay in full by December 1, 2021 or we will offer your seat to someone on the wait list.
Cancellations
If you have booked, and you can't make it,
please let us know ASAP.
We will issue full refunds promptly up to December 1, 2021. After that date we will issue a full refund only if we have somebody on the waiting list to replace you or if you find a replacement. If we cannot find a replacement we will refund only 50% of the total price. If we find a replacement we will promptly refund the other 50%. You will also need to notify the hotel separately at 1-800-PEABODY.
Don't forget to reserve a room at the Peabody.
You don't have to stay at the Peabody, but that's where the action is!
The Peabody is offering us a
deeply discounted rate (nearly 50% off)
on the first 200 rooms booked through February 24, 2022, but
we urge you to please book your room ASAP.
We are confident that the 200 room limit will be reached quickly.
Single or double occupancy is now $251.27 per nite including all taxes (subject to change), fees, internet, and a newspaper. Rates for rooms for 3 to 4 people are $20 additional. Use the link in the previous paragraph to book online, or call 1-800-PEABODY and tell them you are booking for the AmazingRibs.com Meat-Up.
If you plan to come in early or stay after, and you should, the hotel will extend the special rate, but you must call on the phone for your reservation. Self parking is $12 per night, half the usual price. They will accept cancellations up to 72 hours before your first night's reservation without penalty. After that you will be charged for one night.
Expo
We have room for a few more exhibitors. Click below to see info about the Expo, rates, etc. So far the following have signed on:
Slow 'N Sear Grills
,
BBQGuys
,
Hasty Bake
,
Green Mountain Grills
,
Gunter Wilhelm
,
National Pork Board
,
Compart Duroc
,
BBQr's Delight
,
Malcom Reed's Killer Hogs rubs and sauces
,
Sweet Swine O' Mine
BBQ distributor, and Meathead's Amazing Seasonings & Dry Brines.
For more info, see our
Official Meat-Up In Memphis page
, but most of the info is here.