---
Your personal information and settings
You can visit your information by clicking on your name in the upper right corner and selecting
"My Settings"
from the drop down menu.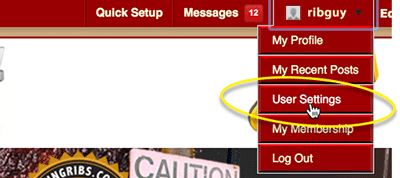 Account.
This tab contains the settings for your account and allows you some control over how things are presented to you on the system. This is also where you change your
password
.
Avatar pictures
. To add a custom picture of yourself or an avatar picture to your account, please click
My Profile
. Once on your profile, hover your mouse over the blank avatar. You will be shown a link to upload your avatar. Click on it and follow the instructions on the screen. If your avatar is too large, you will be able to crop the image to fit.
Notifications.
This tab controls how you are notified of new content you are interested in. You may manage your notification settings at User Settings. On that page, select the
Notifications
tab. On this page, you may select your
Email Notifications
(turn it on, make it daily or weekly, or choose to get it through the message center only). You may also set what type of Notifications you would like to receive.
Password.
To change your password, select
Account
.
If you've forgotten you password you can click on the
Forgot password or username
link. It also appears in the
Login or Signup
box. You will be taken to a new page where you can enter your registered email. An email will be sent shortly to that email address with instructions on how to reset your password. Since passwords are saved in an encrypted format in the database there is no way to retrieve your actual password, it will be replaced with a new password.
You must be able to receive emails to your registered email address for this to work
.
Again, it is important to tell your email program that emails from the domain AmazingRibs.com should be on the
white list
and not go to spam. Please check your spam folder if you do not see this email in a few minutes.
*Please note, if you're accidentally typing your username wrong ("pitboss" instead of "pit boss", or "SmokeyJoe1212" instead of "SmokeyJoe2121" for instance) you won't be let in. IT MAY NOT BE YOUR PASSWORD! Please double & triple check your username and password both before resorting to a password reset.
Privacy.
This allows you to control who has access to your information. You may manage your privacy settings by going to your username in the upper right corner > click to get the drop down > select User Settings. On that page, select the Privacy tab. On that page you may customize who can see and comment on things you started, replied, followed and following under your profile. You may select to show these things to Everyone (default), your Followers, or all Members.
Profile.
The top portion of this page (User Settings > Profile) is the public information that is shown to everyone.
Location
is shown to everyone if you type anything in this box. Please don't put your street address here. All the fields from your First & Last Name down (including your mailing address) are NOT visible to anyone.
Signature
. You can set and change your signature by going to
User Settings
. On that page, select the
Account
tab and then go down to the area that says
Conversation Detail Options
. On the right side, you will see the option
Edit Post Signature
. If you click that link, you will get a popup editor that will allow you to enter/edit your signature. We like it when folks put their BBQ gear & accessories in their signature- it's a great way to show off your stuff, plus it also helps us understand your perspective if you have cooking questions, that way we know what you're using.
You can use images in your signature. Use the
Upload Attachments
button while editing your signature in the signature editor popup. Please keep our
guidelines
in mind.
Topics I Am Following.
If you've 'followed' (subscribed to) any topics, they'll appear here.
Username.
You cannot change your Username. This is to prevent a troll from insulting someone and changing his name. Thankfully we have zero problems of this sort. If you need your username changed, for instance if you misspelled it or don't want your real name out there, email me at
pitboss@amazingribs.com
and I can let you know if I can accommodate your request.
Email address.
At this time you cannot change your email address on your own because it is linked to Stripe, the credit card processor, so we must change it for you so that we can change it in both systems at the same time. If you need to change your email address
you can fill out the request here.