I split a chicken in half tonight and hung it on my Bronco for the first time. I think a lot of people, myself included, might not realize how much fat and juices drips out of a chicken during the cooking process. Watch how much juice is actually spit out during the short video. I can now see how a PBC might get some of the coals extinguished during a cook with chicken, as they have no deflector plate.
I used the Bone Sucking Sauce Rub on the chicken a few hours before the cook. I wanted to stray from my usual Hickory chunks, so I looked for Pecan.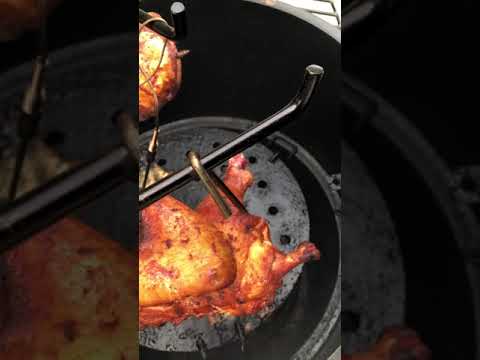 I couldn't find any Pecan chunks so I had to settle for the chips. I soaked them in water a few hours ahead of time, hoping to keep them from burning up so fast. I've always used Hickory or Mesquite before, so this was my first time using Pecan. It was ok I guess, I just prefer a little stronger smoke. A little too nutty for me, but still good though.
In the video you can easily see how the dripping juices still sizzle and smoke from hitting the deflector plate. In my opinion, this is just as good as hitting directly on the coals…without the worry of putting some out. I cooked the chicken at a steady 325* for about 1 1/2 hours. It was very juicy, even the breast meat. The skin was pretty crispy, but not quite as much as I like it. I think next time I'll shoot for 350* - 375* for the entire cook. Overall for my first chicken on the Bronco I was pleased. Room for improvement? Yes, but still happy. And as usual, this thing held solid temps the whole time. Once I got it settled in to 325, it didn't vary more than 5* either way.